Senior Katherine Martinez Advocates for the Disability Community
Every morning, senior Katherine Martinez encourages senior Molly Lamon-Paredes, a student with autism, to go on a walk around campus to pump up Lamon-Paredes' day. Martinez's drive to connect with Lamon-Paredes was inspired by her own experiences with neurodivergence.
When Martinez was diagnosed with ADHD at 7 years old, Martinez said it came as no surprise to her. Martinez was a slow reader who was often distracted and easily bored. While other kids were able to enjoy themselves and focus in class, she was struggling to the point where she needed two teachers to support her.
"My disability made me feel like an outsider," Martinez said. "Eventually, I started seeing unfairness within the disability community. I knew there was a stigma against special education students that separated them from the rest of the school and had witnessed firsthand the mean comments spoken towards them."
Martinez is currently the teacher's assistant for education specialist and co-department chair Melody Resendez and met Lamon-Parades in Resendez's special education class. As an advocate for the disability community, Martinez first became a teacher's assistant for education specialist Desiree De Santos-Shaffers' special education class in 2021, which allowed her to delve into first-hand communication with severe-moderate students with disabilities.
"I mentioned to Mrs. Melody at the beginning of the year that I've been interested in my career as a special education teacher, anything to do with the disability community and special education," Martinez said. "She's been trying to get me out of my comfort zone because I used to also be a shy, timid person, and being in an environment where you have to obviously socialize with the students, teachers and be involved with a lot of things."
Martinez's siblings, Ibsen Martinez and Elliot Martinez, have autism and down syndrome, respectively. Katherine Martinez said that Ibsen Martinez often feels secluded from the community.
"I can't speak for him, but what he tells me is that it's hard for him to make friends, which I kind of was like that when I was like 8 years old," Katherine Martinez said. "I kind of felt like what he's feeling like, 'why is this so hard to make friends? It's so uncomfortable? I just can't because I'm different.' Knowing what this inclusion felt like made me want to take action and create real change in my community."
During Martinez's sophomore year, she joined Bulldog Crew, a club geared toward kindling friendships between general and special education students. She introduced projects to the club in her second year of involvement, including coordinating club events and assisting with academic and social development. One of Martinez's main goals was to build a community filled with love, kindness and inclusion by inviting new members into the club.
"Without a doubt, my contributions were fruitful, the students and members had a wonderful time doing these activities and I helped the club gain 30 new members," Martinez said.
After gaining more hands-on experience, Martinez applied for the Rising Above Disabilities camp, a volunteer-run nonprofit organization that pairs a special needs person with a high school student to form a bond, according to Martinez. Although the results have not come out, expected to come out in late May, Martinez said she hopes to foster a unique relationship and convey her understanding to a special needs student, just like her.
Martinez is pursuing a career as a behavioral interventionist. BIs collect data on students' goals and work one-on-one with students, in which they typically support students in achieving those goals. Martinez's current job as the teacher's assistant helps her with this as she learns what types of data are stronger; thanks to Resendez's encouragement and guidance as a teacher, Martinez was able to find her career path.
"Mrs. Melody told me how special education or being a special education teacher can be difficult at times, but it's really rewarding," Martinez said. "The most rewarding thing is that I'm able to be there, not just as a TA but as a friend and a family for the students and the teacher and supporting the teacher as well, and you're just there to watch the students grow."
Leave a Comment
Your donation will support the student journalists of Portola High School. Your contribution will allow us to purchase equipment and cover our annual website hosting costs.
About the Contributor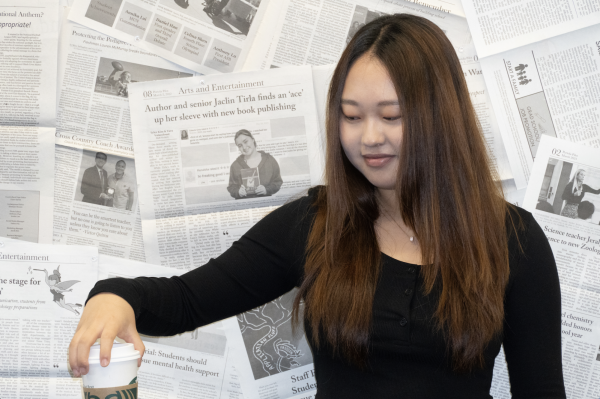 Kayleen Kim, Managing Editor
Kayleen Kim is the managing editor for her third and final year on the Portola Pilot. This year, she'll aim to make her final interactions with the team...