Should Teachers be Armed?
March 30, 2018
Arm for an Arm
About a month ago, 19-year-old Nikolas Cruz opened fire on teachers and students at Stoneman Douglas High in Parkland, Florida, killing 17 people as well as wounding an equivalent amount, making it one of the deadliest school shootings in recent history.
In the wake of the mass devastation that followed the tragic event, students have been standing up against Congress, demanding that they act to prevent future events like this from occurring. One solution proposed by President Donald Trump is to give the teachers access to firearms to protect themselves, and most importantly, their students' safety. This is a viable option to prevent further school shootings from occuring because it gives teachers the ability to protect their students.
"If you had a teacher who was adept with the firearm, they could end the attack very quickly," Trump said in a press conference on Feb. 21. "Schools could arm up to 20% of their teachers to stop maniacs who may try and attack them."
If teachers are trained properly to use a gun, then it could be extremely beneficial to the safety of the school. Such as  It would be an additional help to deter shooters from schools if they know that the teachers have access to protective weapons. Giving the teachers the right to possess these weapons on school property may also make shooters more vigilant and less likely to attack schools if they knew that teachers were armed.
According to CNN, if teachers want to be able to carry guns on campus they must "undergo at least 80 hours of use of force, weapons proficiency, legal aspects and first aid classes. They also have to be approved by the school board and a law enforcement agency."
Some people believe that giving school faculty access to weapons may lead to more problems, causing teachers to use firearms wrongfully and leading to more instability in our school systems however, as evidenced by CNN, the intensive training and selection process that the teachers must undergo to carry a firearm on campus will prevent any event of this sort from occuring.
Superintendent John Scheu oversees Sidney City Schools, a district where designated staff members have access to firearms.
"We can't stop an active shooter, but we can minimize the carnage," Scheu said in an interview with the New York Times.
If teachers can be armed safely with proper training and knowledge, then teachers carrying weapons on campus will save the lives of many students in the future.
About the Writer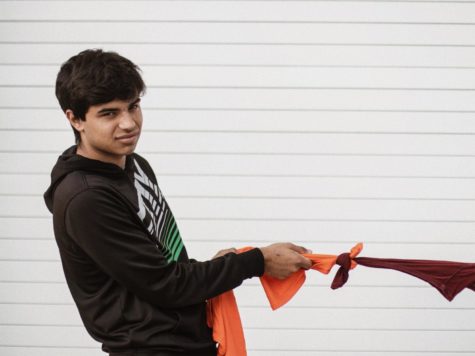 Dylan Vanek, Co-News Editor
Dylan Vanek is the Pilot's Co-News Editor for the 2018-2019 school year. He served as the Opinion Editor and Front & Back Page in his two previous...
Leave a Comment
A Controversial and Dangerous Plan
After the Parkland High shooting on February in Florida, several members of Congress have suggested plans to prevent further school shootings from occurring. President Trump, offering the most controversial plan, proposed that teachers should be armed to protect students from on-campus intruders. This plan is very dangerous and could backfire in many ways.
"It doesn't matter what a pistolero (gunfighter) you are, or think you are. You don't need to be in school in charge of protecting children," the former assistant principal at a high school in Mississippi,  Joel Myrick said in an interview with The New York Times.
Many people believe a teacher's only job should be to teach. They believe that it would be inappropriate to ask a teacher to hold a gun on campus because it would imply that the teacher would have to play the role of a police officer in the event of a shooting.
Not only would it be a burden on the teachers, but arming teachers may backfire on the students, causing the danger to come from the teachers themselves. A potential risk that could arise from this plan would be if racist teachers get a hold of a gun. In fact, recently, a teacher aide got arrested for bringing a gun to school and potentially endangering students.
"How long would it be, if Trump's plan became reality, before a teacher shoots a black student and then invokes the 'I feared for my life' defense we continually hear from police officers who misinterpret young black people's behavior with deadly consequences?" Stacey Patton of the Washington Post said.
If a teacher were to accidentally leave his/her gun out in the open without putting it in a safe place or somewhere protective, and an irresponsible student were to get ahold of the gun, people could get seriously injured or even killed.
The plan is also too impractical, as only teachers with adept firearm training would be given guns to protect themselves and their students. There may not be many people with adept firearm training that would be willing to become teachers so this plan would be very hard to implement.
While arming teachers may seem like a good idea theoretically, in reality, it is a very dangerous idea that could end up doing more harm than good by increasing gun violence. Arming teachers would be a huge step backwards in the process of making schools completely safe from gun violence. Instead, there are smarter ways to prevent gun violence.
Leave a Comment