Socially-Distanced Justice Movements Bring Activists Together
Although social justice movements typically meet in person or in large crowds to protest, the COVID-19 pandemic has created new obstacles for groups while also opening up opportunities for organizations to increase their resourcefulness.
BLACK LIVES MATTER
The Black Lives Matter movement has transformed its initiative into online funding,  informative social media posts and socially-distanced protests in order to adhere to COVID-19 restrictions, according to Insider.
Protests, sit-ins and marches even took place in Irvine this summer, including in the Woodbury neighborhood and Irvine Civic Center.
"Going to these protests was truly eye-opening because no matter how much the media covers it, nothing compares to hearing about their experiences in person and hearing their voices and emotions," junior and Irvine Civic Center protest attendee Shailee Sankhala said. "Social media is doing a good job emotionally hitting people how bad things are."
People at Irvine protests also decorated their cars with washable marker that wrote out BLM expressions such as "defund the police" and "Black Lives Matter," as well as masks with similar phrases embedded on them.
"
Going to these protests was truly eye-opening because no matter how much the media covers it, nothing compares to hearing about their experiences in person and hearing their voices and emotions."
— Shailee Sankhala
"There's a pandemic happening, but you clearly see these injustices happening in broad daylight with George Floyd and more," Sankhala said. "Even though I was hesitant to go, going there inspired me so much and made me realize how much changes needed to happen in our community."
MOTHERS OF THE PLAZA DE MAYO
Mothers of the Plaza de Mayo is a movement in which women gather weekly to commemorate the stolen and missing children under government and military terrorization of the Dirty War in Argentina. Spanish teacher Kari Tubbs teaches her Spanish 3 students about the brief history of these mothers through documentaries and activities.
Before COVID-19, the Mothers of the Plaza De Mayo traditionally met every Thursday at 3:30 p.m. around the May Pyramid in Buenos Aires, but quarantine restrictions led them to change how they advocate, according to the Guardian.
"What they're doing is placing the white handkerchiefs they wore during marches on the balconies of their apartments," Spanish teacher Kari Tubbs said.
Since the movement began in 1977, the original mothers are all grandmothers now, and they continue to fight for justice for families of the missing people, according to the Guardian.
"It's so interesting and creative the way they've still decided to participate in their protests and their marching, but in a different way," Tubbs said. "I can just imagine these 92-year-old ladies talking on the phone or using a Zoom to figure out 'How can we still do this? How can we still impact people?'"
LAURA'S HOUSE
Laura's House is Orange County's domestic violence prevention center, which works to provide donated items and resources ranging from masks to sheltes to clothing items for victims of domestic violence.
"Laura's House transitioned many of their resources online so that clients could access counseling or legal services on a secure platform," junior and president of the Domestic Violence Prevention club and Laura's House volunteer Saachi Pavani said. "The organization is continuing to offer emergency shelter to survivors and hold virtual teen dating abuse workshops for high school students."
According to the official website for Laura's House, since quarantine began on March 16, there was a 40% increase in calls to their 24-hour Crisis Hotline and a 20% increase of domestic violence-related calls to the Orange County Sheriff's department.
"The pandemic proves to be a challenging time for victims of domestic violence. Staying at home is dangerous for victims since they are isolated with their abuser, away from friends, family and support resources," Pavani said. "Laura's House is needed now more than ever to break the cycle of violence and educate the youth on how to maintain healthy relationships."
About the Contributors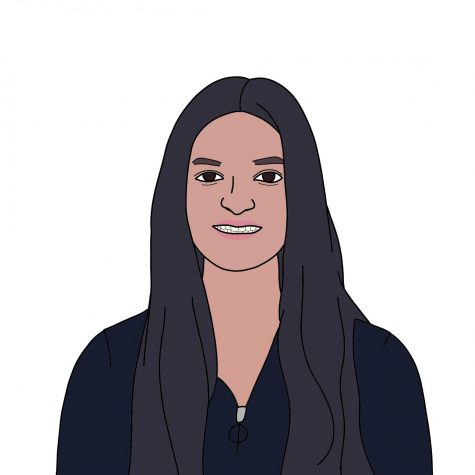 Krisha Konchadi, Front Page Editor
Krisha Konchadi is the front page editor this year on the Portola Pilot. Along with editing and creating the front page, she loves making graphics and...