Softball Swings past Spring Season
Girls' softball (14-0) faced great struggles yet managed to get by, finishing the season with a 14-game losing streak.
The team hit many roadblocks this season, such as losing their head coach at the beginning of the season. Interim head coach Amanda Lovette who says she will return next year as the official head coach.
"The girls who have been playing softball at Portola since they were freshmen have had to deal with three different coaches before I came in. That means they have had four different coaches in three years" Lovette said. "Whether you have 10 years experience or two years, having to deal with no consistency and that many coaches would be hard for anyone to adjust to."
While the inconsistency did set the girls back, it brought their bond closer together and helped them stay determined through the season.
"
We fought our way through every game and yeah this season was difficult but it never made us even think of giving up."
— sophomore Lauren McMurray
"We faced many hardships together and from that we formed a very understanding and sympathetic bond," co-captain and sophomore Kaelene Siribandan said. "Each girl provided comfort, advice and a shoulder to lean on."
As the season carried on, Lovette got many kind words from other schools, one including a coach from Century High during their tournament.
"The coach came up to me before the start of the game and said, 'I have been following your team throughout the tournament, and I just wanted to tell you that, while you may not have the talent yet, I wish my girls played with half as much heart as yours do," Lovette said.
This moment gave Lovette the confidence that the team will improve their playing skills, so long as they have the heart and continue to work hard.
"We fought our way through every game and yeah this season was difficult but it never made us even think of giving up," sophomore Lauren McMurray says.
Next year, Lovette said she plans to set a solid foundation for the team for the many years to come. Girls' softball took PRIDE values and exercised them with grace, showing the true heart within our student body.
About the Contributor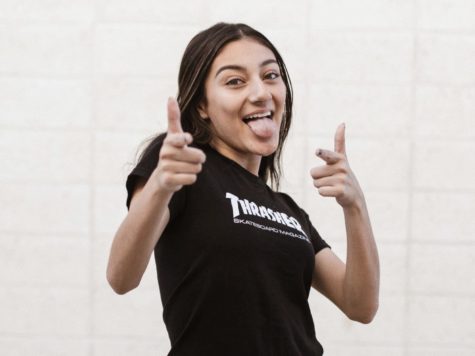 Giselle Villegas, Staff Writer
This year is Giselle's first year in Journalism, however writing has been a long time passion. Aside from Portola Pilot, she enjoys writing poetry and...