Students Protest in National School Walkout
About 200 students left their classrooms at 10 a.m. to participate in the National School Walkout on March 14, marking the one-month anniversary of the shooting in Parkland, Florida. These students are several of thousands of participants across the nation who are bringing awareness to issues of school safety and gun violence, according to Time magazine.
The walkout lasted 17 minutes, one minute of silence for each victim killed by the shooting at Marjory Stoneman Douglas High. The protest occurred during the end of Office Hours and throughout break, in accordance with the bell schedule. Students first gathered in the basketball courts, then walked to the gym parking lot for the remainder of the time.
"I just think that it is so empowering that everyone got together," freshman Kristen Ok said. "I think that it is important for people to know that these kinds of tragedies happen in the world, and we can only prevent these crises if we take action, and I think this walkout shows that."
According to Vox, the first amendment allows students in public schools to protest gun violence, but students will face consequences if they cause a disruption to the normal school day. The definition of a disruption varies for each school district.
"There was a group of students that was wanting to participate, and so they asked for a meeting to see what's appropriate and what's not appropriate. The intention was not to disrupt school activities and to get into trouble. The intention was to bring some eyes to the issue," principal John Pehrson said. "Sometimes, when you get a large number of people like that, there can be a type of mob mentality and it only takes a few people to make it go sideways. I was pleased to see that the kids that participated did it respectfully and did it intelligently."
Some students chose to not participate in the walkout for various reasons, with the biggest concern regarding the effectiveness of the walkout.
"I did not participate in the Walkout…In the sense, I completely support the idea that change is necessary and that gun violence is a problem in society," sophomore Nishad Francis said. "I was just wondering if the Walkout is the best way to achieve that because we aren't really saying anything by leaving during break…I think if we were to participate in a Walkout it needs to be more powerful and significant than that…It's important to remember that change is needed, but we really have to figure out that unless we do a method that causes the change to happen, there isn't much point in doing an action where we don't get the reward we want…The things we did, although very important, we need to find a more effective way to do them."
The walkout was planned by the youth branch of the Women's March, called Empower. According to womensmarch.com, the walkout was to commemorate those killed in the Parkland shooting, remember all victims killed by firearms and pressure Congress to pass gun reform.
"The walkout makes us more aware, and it also brings us closer as a community to realize that we can't be afraid to go to our own school because of the fear of one day someone's going to shoot at us. We need to come closer together instead of staying further away," sophomore Jaedyn Miller said. "I felt sad and angry that this had to happen in the first place, but I was also happy to see that there were so many students willing to participate and come together and show support for this."
About the Contributor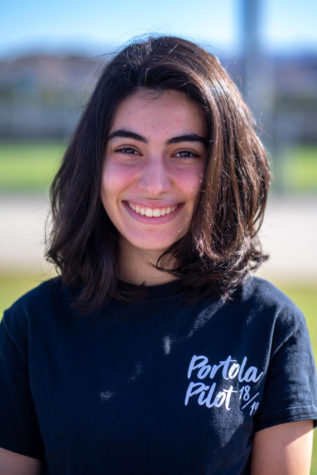 Maya Sabbaghian, Managing Editor
Maya Sabbaghian is one of two 2019-2020 Managing Editors. A staff member since 2016, Maya has previously served as a 2017-2018 Editor-in-Chief, and as...