Technicians Work Hard Backstage to Bring Magic On Stage
Beneath the animated presentation of actors, singers and dancers seamlessly performing on stage lives the backbone of it all: a crew of creators working backstage to master the art of technical theater. Currently, drama teacher Samantha Sanford teaches two classes: Intro to Tech Theater and Advanced Tech Theater. While classes are separate, students with different levels of experience come together to work on full-scale productions like the "Cinderella" musical.
"This year, all of the technical areas were completely student conceptualized, designed and executed, with help from adults, but it was all student ideas in general," Sanford said. "As a whole class, they decided aesthetic-wise that they wanted to really emphasize the dreariness and dark moodiness before all of the magic takes place, and they wanted there to be a strong shift visually from when Cinderella is with the stepfamily and feeling downtrodden versus when she finally has a voice."
In Sanford's first year at Portola High, she has been encouraging student autonomy in completing their responsibilities. In particular, the six-month long production of "Cinderella" showcased spectacular sets and props made entirely by students.
Beginning with the designing phase in October to the polishing phase in early March, these technicians constantly tested and rebuilt scenic designs. Many of the props, like the carriage or the staircase, required technicians to think creatively for ways the transitions on and off stage could feel and look cohesive.
"We all have our own visions, and while sometimes they conflict, I shared my vision with my partner, Brian, and we work together to make our set design," scenic designer and sophomore Arun Malani said. "I'm most proud of our commitment… We stay [after school] every day to work on [the sets]. Those that are really committed stay during office hours and lunch."
Tech theater embodies roles that vary from publicity and marketing to carpentry and assistant directing, but most students rotate from one job to another throughout the year, depending on the event. Students are often designing, creating or directing until at least 10 p.m. for at least five or six nights each semester.
"Not only does [tech theater] teach you the basics of lights, sound, set building, props, costuming and all the other factors that are essential to a production, but it also allows you to appreciate the artform of theatre if you don't feel like acting, dancing and singing," junior Issac Yang said.
Advanced Tech Theater is now preparing for the spring dance concert, "Moving in Color," that will occur April 23-25. Technicians will grow their skills to interpret a dance and design accompanying lighting by each taking ownership of one dance piece in the concert.
"Nothing in theater would be able to happen without them," Sanford said. "I think they know that in their hearts, but I don't think they hear the gratitude enough from myself for from other teachers or from other performers."
About the Contributors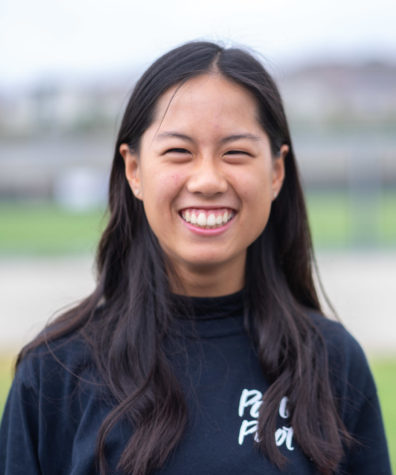 Julia Kim, Opinion Editor
Julia Kim is your 2019-20 Opinion Editor, continuing her fourth - and last - year on the Pilot! Outside of journalism, you can find her at the dance studio,...