The Unbalanced Playing Field: The Saga of Female Athletics Needs to be Addressed
359 to 512.
2,357 to 3,343.
3,440,000 to 4,560,000.
These numbers reveal the stark disparity between the number of girls participating in athletics programs compared to boys at Portola High, in Irvine Unified and at the national level, respectively, during the 2019-20 school year, according to an Irvine Unified report and Statista. 
The California Department of Education passed Title IX in 1972 to promote equal treatment of different genders in educational settings. Despite this, the stereotype that girls are not as athletic or as competitive as boys is still perpetuated by the media and societal norms, discouraging many girls from pursuing sports, according to the Women's Sports Foundation.
To unravel the evident imbalance of participation, students and staff should work to put an equal emphasis on girls' sports next school year by highlighting achievements and encouraging female students to a greater  extent.
"I feel like boys' sports get more representation than girls' sports because more people care about that," softball player and sophomore Sanaa Bullock said. "You can see it when you go to the games; you don't see a lot of people watching the girls' games. Most people think it's because boys are more aggressive and driven to play a sport, and they don't really think that girls have the same capability or mindset."
In 2010, the National Women's Law Center cited Irvine Unified for gender discrepancies in high school athletics, including coaching staff representation and payment differences, according to athletics director Peter Abe. He also said that since then, the district expanded the sports offered and hired more female coaches since then.
"I think Title IX, administrators in our district and our school board make sure that we are taking deliberate steps to do our part to offer these opportunities," Abe said. "We've got to continue to normalize athletics with females at a younger age knowing that there's countless opportunities to participate. It's just how and why are they not participating earlier?"
While teammates foster a supportive environment to combat this, but the student body's culture of rallying around "masculine sports" is a testament to their ability to replace derogatory remarks towards female athletes with equal respect for their games and accomplishments.
The administration's ongoing efforts to increase opportunities for female athletes on campus by introducing girls' flag football for the fall season and offering wrestling and badminton as co-ed sports is a stepping stone to addressing the disparity holistically.
"I think all sports are equal in the way they represent the different genders now, especially with them having a girls' football team coming and wrestling being co-ed, which is great," wrestler and junior Isabella Lugo said. "If you are comfortable and you love the sport, you are going to be fine with however your sport goes."
Regardless of broadened possibilities, why are athletes still feeling excluded and overshadowed? Students experiencing discrimination in "feminine sports" can voice their concerns to coaches and collaborate with the athletics department to promote greater representation on campus. 
It is important to recognize that an environment can either cultivate or suffocate a student's drive for a sport. Instead of parents and teammates scattered between barren bleachers, staff and students should voice their concerns and take part in raising prestige for the "forgotten sports" on campus next year.
Leave a Comment
Your donation will support the student journalists of Portola High School. Your contribution will allow us to purchase equipment and cover our annual website hosting costs.
About the Contributor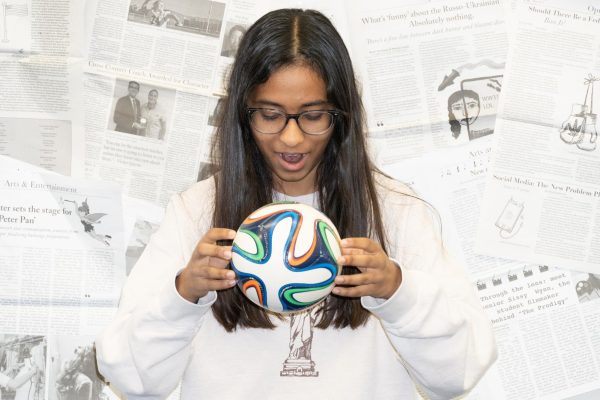 Ruhi Samudra, Sports Editor
Ruhi Samudra is the Sports Editor for her second year on the Portola Pilot. She's looking forward to being her best social butterfly self this year and...