Top 5 Video Games of 2017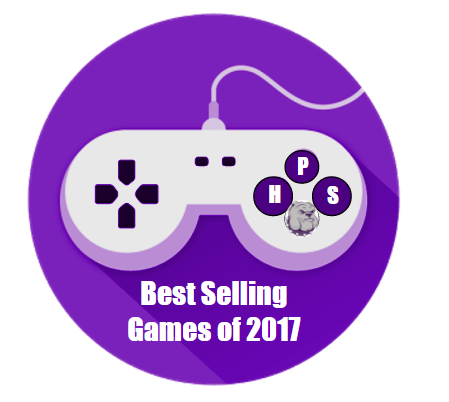 The first month of the new year has nearly passed, and in the coming year there are many more movie and video game releases to look forward to. While there have been many spectacular games, there have been a few flops. This list will be looking at the top five best-selling video games of 2017, so let's jump right in.
5) "The Legend Zelda: Breath Of The Wild"
The newest Zelda game revitalized the Legend of Zelda series, featuring an amnesiac protagonist fighting to save the kingdom he lives in. An expansive overworld, breathtaking graphics and open-ended gameplay made it the flagship title of the Nintendo Switch. Receiving critical acclaim, "Breath Of The Wild" is truly a welcome addition to the Zelda series.
4) "NBA 2K18"
2K Sports' award-winning series acquires another solid entry in "NBA 2K18."  Players can collect any athlete from the huge NBA lineup or even create their own character and live out their dreams of playing in the NBA. Smoother animation and better gameplay makes 2K18 a worthy addition to any player's collection.
3) "Madden NFL 18"
"Madden NFL 18" is the story of Devin Wade, a football quarterback who plays in the NFL Regional Combine and gets whisked into the world of television. Electronic Arts produced a gem of a game this year with refreshed graphics and tight and responsive gameplay. Paired with a gritty and realistic story, Madden 18 is the crowning jewel of EA's Madden franchise.
2) "Mario + Rabbids Kingdom Battle"
"Mario + Rabbids Kingdom Battle" is the story of a genius inventor and her invention, the SupaMerge, which brings together the worlds of Mario and the hyperactive Rabbids. Nintendo fans were somewhat nervous when "Mario + Rabbids" was first announced, as there were many factors that could have gone wrong, such as an ill-mix of Mario and Rabbids. Nintendo, however, managed to release a phenomenal, tactical, turn-based role playing game, lacing a unique and intriguing story with entertaining and easy-to-learn gameplay.
1) "Destiny 2"
The original Destiny was the third best-selling game of 2014, and in 2017 Destiny's fanbase helped bring Destiny 2 to first place. The game continues the story of the original "Destiny,"  in which the main player, known as a "Guardian," takes on the Red Legion, a group bent on stealing the Guardian's Light, their source of power. "Destiny 2" fixed the original Destiny's problems and expanded on its limited story while also focusing on adding more content, from powerful new weapons to stylish costumes. Launching in September, "Destiny 2" became the best-selling game of 2017 after just one month, breaking several sales records and recording over 1.3 million players online, a number that is still growing to this day.