A Musician to the Audience, an Inspiration to the Students
With over 44,600 monthly listeners on Spotify, Ian Fujimoto, known to students as Yoshi, is an instructional aide and a featured singer, songwriter and instrumentalist.
He was initially inspired in third grade by his step-father to experiment with instruments and began taking music seriously after graduating from high school.
"Yoshi not only is a mentor, but he is also a friend to all of us," sophomore Faith Nguyen said. "He inspired me during the musical to step out of my comfort zone. In the beginning he was scary, but he really pushed all of us out of the comfort zone and made the musical really great."
Similar to the emphasized message of passion at Portola High, Fujimoto said he believes passion should be incorporated throughout daily life and is a critical factor in pursuing a successful career. He illustrates this through his pursuit of music.
"Apply passion in anything you do, because whether it's something you don't like or something you love, it makes it a lot more fun and a lot easier to get through," Fujimoto said. "Passion is a key ingredient to success…The key to that [being happy] is not measuring your success by the money you've made or the fame or popularity, but by the quality of work that you're producing."
Around campus Fujimoto prefers to be called Yoshi, which allows for him to connect with students. This name originated from his middle name, Kiyoshi, which his music name, Kyo, came from as well. He is an encouraging friend as well as a role model to students. He forms meaningful and supportive relationships with the students, which allows for them to have a safe space to communicate.
"He does what he loves and encourages us to follow our passions no matter how wild they may seem," sophomore Tabitha Bradley said. "He's one of us. We can always talk to him about anything and everything, and he will always help us with our problems…He inspires me to not only pursue my passions but also love everyone every step of the way."
About the Contributor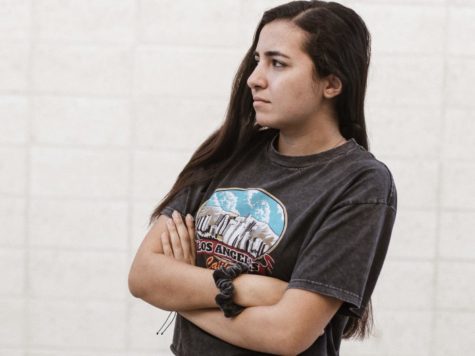 Maryam Shama, Co Editor-in-Chief
Maryam Shama is your 2018-19 Co-Editor-in-Chief! Having been Opinion Editor in the previous year, she is excited to contribute to the production in a different...