Afters: All Hype, No Heart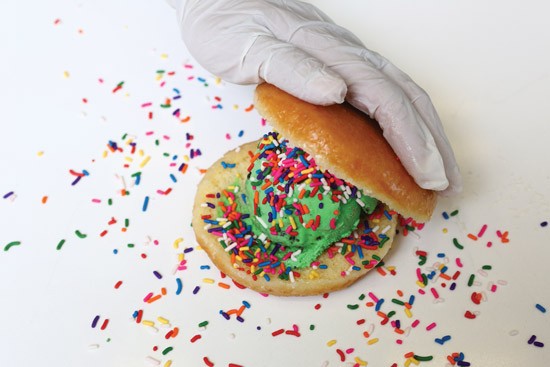 Irvine Spectrum Center opened nearly 30 new businesses three months ago on August 18. While the list of food businesses consists mostly of well-known names, such as 85°C Bakery Cafe and BLKdot Coffee, one brand in particular stands out.
Afters Ice Cream's signature product is the Milky Bun, which showcases ice cream stuffed between a glazed donut. Unfortunately, the Milky Bun does not live up to expectations, proving to be only a feast for the eyes.
Although the ice cream flavors are delicious when eaten on their own, the flavors are instantly lost when eaten with a Milky Bun. The bun itself (costs $6.50 per bun) is quite dry, even when the ice cream absorbed into the bun.
The bun is a reformulated glazed donut that is dense with the hole filled in with dough. Despite these formulaic changes, the overpowering sweetness of the glaze combined with a vast ice cream to bun ratio made it difficult to identify the flavor of the ice cream within the bun.
However, from jasmine milk tea to strawberry cookie crunch, there is a variety of unique, mouth-watering flavors of ice cream.
Acai Blueberry,

the "healthy" flavor offered, was vibrant and refreshing. It had the right amount of acidity, sweetness and even a slight bitterness to bring out the mix of berries. The texture was less smooth than other flavors due to the bits of seeds, but it was quite delicious, resembling the real acai smoothie flavor.

Strawberry Cookie Crunch

was very disappointing because there were not a lot of cookie crumbs. Because of this, it was hard to identify any cookie crumbs at first. The flavor itself was just plain strawberry, which tasted better than most standard strawberry ice creams due to its soft texture.

Rather than the traditional coffee flavor, Afters chooses to go for something different with their interpretation of

Vietnamese Coffee

. This ice cream has a distinctly sweeter, nuttier taste and is one of the best flavors at Afters.

Jasmine Milk Tea

is one of Afters' most unique flavors. Based on the drink, it exceeds all expectations: a combination of jasmine and a hint of honey create a taste that is nearly identical to the actual tea and leaves you wanting more.
Ultimately, Afters Ice Cream can do very little to distinguish itself from established ice cream stores like Baskin-Robbins. While Afters does offer numerous creative flavors of ice cream, the Milky Bun is not a good reason to go to Afters. You'll be fine at your nearest ice cream shop.