Behind the Scenes of Back to School Night
Parents saw their first glimpse of their childrens' lives at a full, four-year high school at Back to School Night on Sept. 11. Each teacher had a unique way of preparing for the night.
"[Back to School Night] is kind of like the syllabus, but also it's a way for parents to see the teacher's 'vibe,'" social studies teacher Shameemah Motala said. "I'm probably going to do a Google Slides presentation and just do an overview of the school year, but also explain to the parents, especially of the freshmen, that everything's going to be okay." 
The content of teachers' presentations varied by department and grade level. Teachers with freshmen classes had the task of assuaging the fears of parents new to having a child in high school. In contrast, some teachers with junior and senior classes had sparse classrooms, most with around half of the parents in attendance. 
Teachers also had different methods of showcasing student work. 
"It's one thing to talk about [students' work] and explain it, but to actually see the products, I think [parents] really appreciate that," literary and language arts teacher Desmond Hamilton said. "[On my wall] are the bugs from 'The Metamorphosis,' and hopefully I'll have the Advisement mission statements up."
The event itself consisted of eight 10-minute periods, each concluding with an announcement on the intercom of the end of the period and a reminder of which class was next. ASB students in bright yellow traffic vests ushered parents to each class.
"I got to see the content my daughter is going to learn, the teachers' style, why the teachers come and teach our students," parent Chantell Cooper said. "I still find it very helpful."
By the end of the night, parents saw what a day in school looks like for their child, and teachers were able to show what they had planned for the school year.
"I think it's the first official opportunity for us as teachers to showcase our hard work," Hamilton said. "It's not a job where we're looking for accolades or commendation, but by that same token, we do work hard; we do a lot to prepare for our classes and to prepare the best possible product for our students."
About the Contributor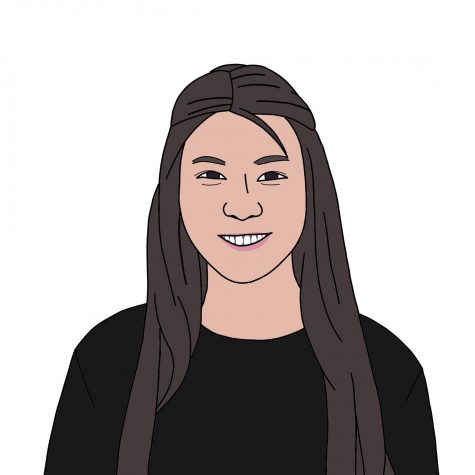 Kate Hayashi, Editor-in-Chief
Kate Hayashi is the co-editor-in-chief of the Portola Pilot. She draws all her writing inspiration from Michael Barbaro's "hmms" in "The Daily." Outside...