Behind the Scenes of Creating the Alma Mater
The official "Hail Portola," complete with lyrics and instrumentals is complete and will be played for the first time for the virtual graduation of the class of 2020. 
Visual and performing arts teacher Desmond Stevens chose the tune of "Annie Lisle" and wrote the lyrics in the spring of 2016. Although the alma mater's tune has been performed by marching band since the first football game in 2016, it has never been performed with lyrics. 
"I wrote our alma maters lyrics over the course of a couple weeks while I was driving to and from our planning meetings for Portola in the spring of 2016," Stevens said. "I would think of possible lyrics while on the freeway and then ask Siri to dictate my ideas when I thought they were good. After a couple weeks, I had a decent amount of thoughts that I was able to put something together that I believed told the story of what PHS was: its location, colors and values."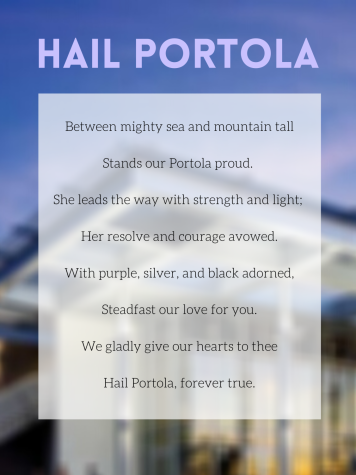 Stevens received inspiration from Portuguese and Brazilian themes of "saudade," or nostalgia, to promote the idea of looking back at the cheerful memories of high school for graduates.  
"Essentially, a good alma mater is a ballad," Stevens said. "It is supposed to tell a story and remind us of what a school meant to its alumni. Literally, it means something along the lines of 'mother soul' or 'nourishing mother.'"
Portola High's story includes "strength and light" and "resolve and courage," a reflection of the PRIDE values. Members of orchestra individually contributed recordings of themselves playing the "Annie Lisle" tune for the alma mater as an assignment for their class. The combined recordings will be used for the graduation ceremony.
"It was definitely different in the fact that I'm playing by myself and not with an orchestra, but I'm hoping that the end product is worth the differences," violinist and senior Daniel Han said. "I think it turned out great and believe it accurately represents the culture of Portola."
After the updated song's official debut at graduation, it will be played at almost every school event starting the upcoming school year. Audience members at future graduations, football and basketball games and possibly pep rallies will be able to enjoy the new melodies.