Bey Dances the Day Away
Junior and Dance Company member Briana Bey is December's Artist of the Month, which is an opportunity for the Visual and Performing Arts Department to choose one outstanding student per month to showcase his or her passion.
Bey's mother decided to enroll her in dance class at the age of three, first learning the style of tap in which a dancer uses a tap shoe against wood floor to make a variety of sounds matching to his or her song of choice. This class is where she found her everlasting passion for the art.
"There wasn't much love for the other sports, but then I started dance, and I really enjoyed it. I've been stuck with it ever since, so being chosen for Artist of the Month, to me, is a really amazing feeling," Bey said. "It reminds me of why I started dance in the first place."
One style of dance is contemporary, a modern type of dancing with various background music such as slow music, instrumentals and sometimes, absolute silence. This style of dance is very emotionally driven and allows the dancer to use his or her body in a way that other traditional types of dance, like ballet, does not.  
"Contemporary is my favorite style of dancing. It conveys such deep emotion that other styles can't capture. It can show anger, happiness, sadness or any type of feeling," Bey said. "There can be a whole story within a couple minutes of a song."
Bey was not always solely a dancer at Portola High. She balanced softball and dance freshman year and fully committed to softball sophomore year. Bey made Dance Company junior year, returning back to what was always in her heart.
"I feel part of a family in Dance Company," Bey said."I believe that each of us brings something very special to the team. I couldn't have asked to be a part of a better company family."
"I really admire the risks she's taken as a student choreographer and a leader on Dance Company this year," dance teacher Samantha Gardner said. "Aside from her beautiful piece you will see in the dance showcase, I think she has a really positive and fun energy on the team and is always making people laugh. Briana always steps up for the better of the team."
About the Contributor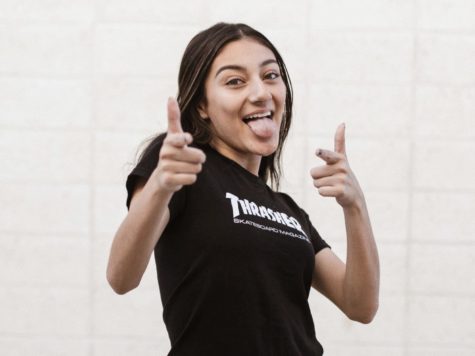 Giselle Villegas, Staff Writer
This year is Giselle's first year in Journalism, however writing has been a long time passion. Aside from Portola Pilot, she enjoys writing poetry and...