Boys' Soccer Starts Off Season Strong
Boys' soccer (3-3) won 3-2 against Laguna Hills High on Dec. 12 in the stadium. They played a 4-1-4-1 formation, with an emphasis on keeping a strong midfield to defeat the Hawks.
"I feel like we need to work a little bit more on communication when we are in the final third of the field, and other than that, I think we did pretty well," midfielder and junior Jonathan Kim said.
The game started off rocky with Laguna Hills High dominating possession and scoring in the first ten minutes. Eventually, striker and sophomore Sherwin Salehi scored in the 19th minute, bringing the team's spirit up. Salehi scored again in the last two minutes on a quick counter-attack that caught Laguna off guard.
"We knew our game plan because we had adjusted to the team, and that allowed everybody to be on the same page, and that made everybody focused on one goal, which everybody was working hard to obtain," captain and junior Anirudh Chaudhary said.
Entering the second half, Laguna scored in the 56th minute as the Hawks right winger crossed the ball into the 18-yard box. As the weather dropped below 60 degrees, the Bulldogs increased pressure in Laguna's half, until finally in the last 15 minutes, they scored leading 3-2. The defense held strong, and the team added another win to start off season strong.
"Defensively, our primary player that stood out the most was Kyle De Oliveira. It was his first varsity start for our team. We pulled him up from JV for our previous game," head coach Matthew Juliet said. "Today, he played the full game going in, so for him to kind of come in the game and play every single minute and play well and not necessarily make too many mistakes minus a little minor adjustments, he did a fantastic job."
About the Contributor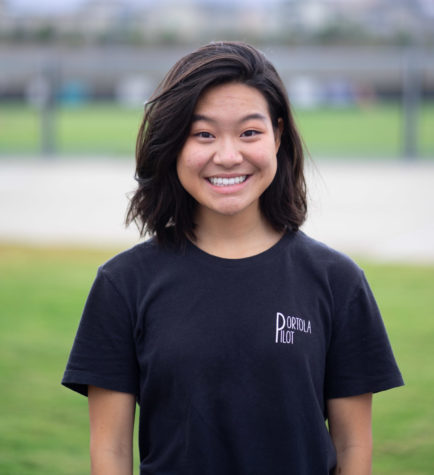 Priscilla Baek, Media Director
Priscilla Baek is Portola's Media Director. She has spent five years of her life in Yemen immersed in charitable organizations. With a passion for writing...