Bulldogs Continue Winning Streak with Victory against Cerritos High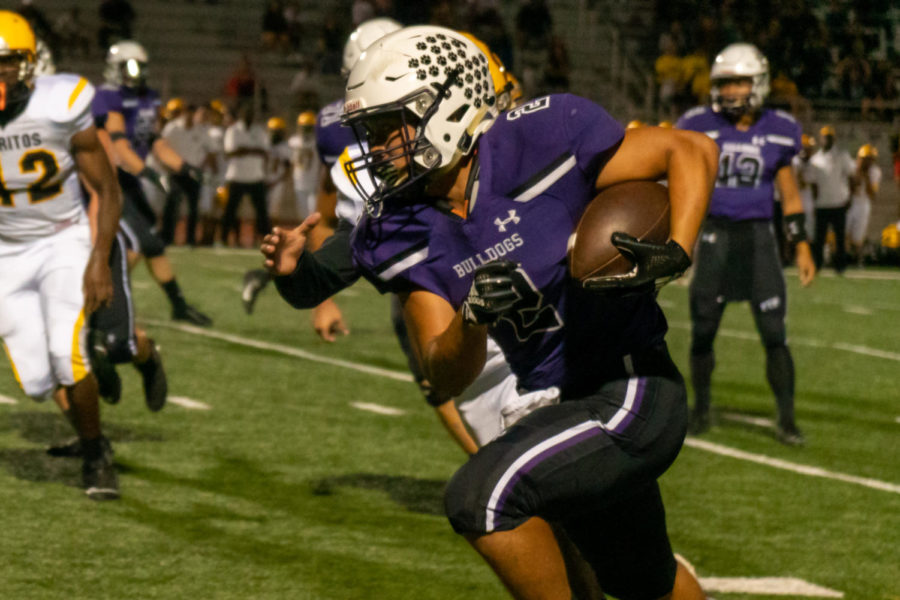 Football (3-1) won 46-18 against Cerritos High on the football field last Friday, marking the third consecutive win of the season. The Bulldogs came to win in front of a raucous crowd, as the student attendees supported and cheered loudly for the team, dressed in sunglasses and vacation attire to celebrate the tacky tourist theme. 
"We take it one day at a time. On Monday, we work on what needs to be improved for the Bulldogs. Tuesday, we introduce the opponent, Wednesday, we polish, Thursday, we polish, and Friday, we execute," head football coach Peter Abe said. "We actually had a pretty good week of practice, so going out there I know that the coaches, and I would assume the kids, were pretty confident that we were gonna be able to at least put ourselves in a position for success."
Though the score was tied 6-6 midway through the first quarter, linebacker and senior Joey Omar forced a crucial turnover that helped change the momentum of the game. Senior quarterback and co-captain Brandon Yue threw the football down the wings to wide-receiver and senior Kaveh Wojtowich to score his pick-six touchdown.
"There's a lot of adrenaline when you're running toward the end zone," Wojtowich said about the second touchdown of the night. "It was at a point where their offense had just driven down on us, and they could have kept their momentum going, but I read a tipped pass, and I just caught in and ran with it."
The increase in school spirit did not go unnoticed by players, according to Wojitowich. ASB athletic representatives, the presidents and house presidents led new cheers such as "Bulldog Defense" and "I believe that we will win" as baby powder made clouds over the crowd. 
"At Portola, we kind of all want to be together," spirit and rally commissioner and junior Jun Kim said. "It's not like the football team has their football games. We all want to be supporting of whoever is playing and support them in their victories and in their losses especially as well, so it's important that we all go to make sure…our legacy kind of continues and make sure our spirit does not die down."