Junior Raksha Rajeshmohan Nominated for Theater Critics Award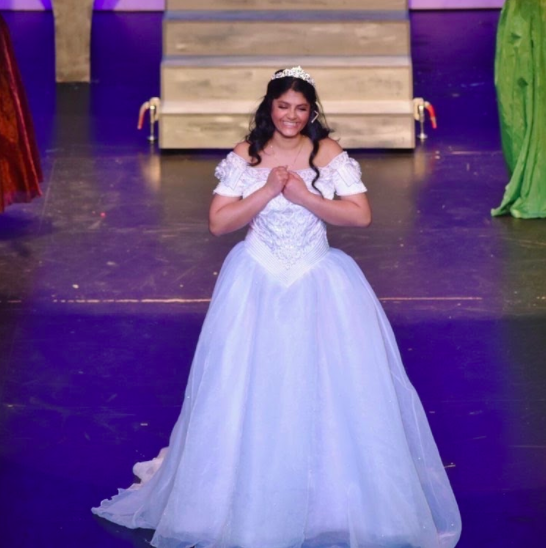 From astonishing audience members with her show-stopping performances to constructing critic reviews for local school productions, junior Raksha Rajeshmohan has built a unique appreciation of theater through the Cappies program. Because of her work composing review articles that celebrate local theater programs, Orange County Cappies nominated Rajeshmohan as Best Junior Lead Critic and she will attend a virtual gala on May 31. 
Orange County Cappies is dedicated to celebrating theater in an unconventional way. Instead of acting onstage, high school students travel to local high schools to watch other productions and write reviews that have the opportunity to be published on the Cappies website or Facebook page. At the end of the year, a gala is held to celebrate nominees in different categories for their contributions to theater. Due to COVID-19, this year's gala will take place on YouTube Live.
The junior critic nomination Rajeshmohan received is attributed to several factors. According to drama teacher Samantha Sanford, nominations are based on a combination of the amount of shows each critic attended, if they submitted articles in a timely manner and if they earned points for being selected as first, second or third choice for publication. 
"I think Raksha has been a really strong leader for the team," Sanford said. "Leadership is not a new strength of hers, but specifically for the Cappies team she continually is in the group chat and reminding people about deadlines or things that need to be submitted."
Throughout the year, Rajeshmohan has written four reviews, two of which have been published online. Watching and writing about other school productions has allowed her to understand the power that theater holds. 
"
Sometimes the audience has more power than the performer because you get to let the performer know that they made an impact on you."
— Raksha Rajeshmohan
"I think it's the ability to celebrate theater in a way that you can't as a performer," Rajeshmohan said. "Like on stage, you can only do so much, and you can only put out the best show that you can put out. But as a Cappie, you can watch the show as an audience member, and sometimes the audience has more power than the performer because you get to let the performer know that they made an impact on you."
As lead critic for the Cappies team, Rajeshmohan attended workshops for writing different aspects of critique articles while also juggling her lead role in the spring musical. She has worked with many theater members since seventh grade, including junior Maria Pantoja. 
"She stands out because she has such a passion for theater that her own passion influences how she contributes and how she helps add to the theater community," Pantoja said. 
Although Rajeshmohan will not attend an in-person gala, she said she is grateful for the experience that Cappies has given her, including the opportunity to virtually witness a true celebration of theater.
"Cappies as a whole just reminds me that every aspect of theater is noticed and important and recognized," Rajeshmohan said. "Even the lighting designer that's never on stage can win an award through the Cappies, and it just reminds you that every aspect of theater is so important."