Kicking Into A New Year of Girls' Soccer
Updated December 8, 2017. The JV girls' soccer team currently has a record of 4-1-1. Freshman and Captain Hope Paredes has scored more than 6 goals. The team has two upcoming tournaments and 11 games remaining.
The new year of girls' soccer sees several changes that will affect the outlook of the season. As the first home game of the season at Laguna Beach High on Nov. 21 approaches, they are hard at work practicing every day to improve on a losing record from last year.
One major difference this year is that head coach Jeralyn Jelnick is only coaching girls' soccer this year, as opposed to both girls' and boys' soccer.
"Just focusing on girls' soccer is going to benefit my athletes the most," Jelnick said. "With my entire focus on girls' soccer, I am able to attend all practices and games and plan more team bonding and fundraising events."
As the junior varsity team is currently not in the league, other teams that are in the league already have games scheduled while Portola has to personally email other team to schedule games. Despite this, the JV team will be competing in several tournaments against Division 1 schools. This new challenge will help prepare the program for next year's varsity team.
"I'm just looking forward to each game because I get to experience playing against juniors and seniors and athletes from D1 schools who are committed," sophomore Chris Choung said. "So it will be a hard yet enjoyable experience since it'll make me a better player as well as an athlete."
With a lot of new freshmen on the JV team, sophomores like Choung have worked to help make the freshmen feel more comfortable.
"They've been very welcoming, giving us advice and helping us get to know the team a little better," freshman Saba Najafi said. "I'm so excited to play with them on our first game!"
About the Contributor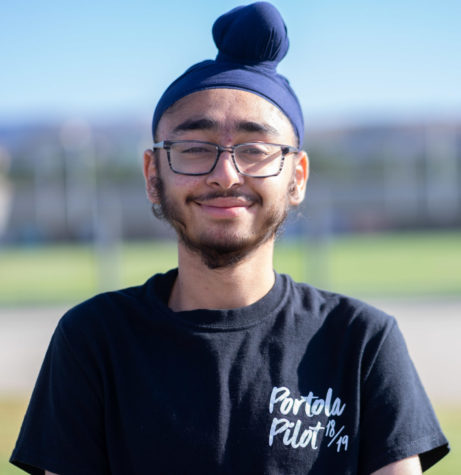 Simrat Singh, Editor-in-Chief
Simrat Singh is one of your 2019-2020 Co-Editors-In-Chief, for his third and final year in the Pilot! As Co-Editor-In-Chief, Simrat is ready to leave a...