Ranking the Top Valentine's Binge-Worthy Rom-coms
Romantic comedies from the late 1990s to the early 2000s are unmatched. The cheesy lines and over-the-top fashion are a tremendous source of comfort, especially around Valentine's Day when both the single and taken revisit these fluff-full euphoric classics. 
Here are five of the best romantic comedies for your next Valentine's Day binge.
5: "13 Going on 30" 
Jenna Rink, a young impressionable 13-year-old, wishes to be "thirty, flirty and thriving," transforming 17 years into the future to of her 30-year-old self. While the romantic plot elements are predictable, the storyline features a playful take on how adolescents view adults in the real world. While this movie is sweet, innocent and endearing, I placed it last due to the off-putting romantic relationship between Jenna, who is mentally a minor, and Matt Flamhaff, a fully-grown man. 
4: "27 Dresses" 
Predictable, cheesy and cliché are often all you need in a decent romantic comedy. "27 Dresses" follows Jane Nichols, a people-pleaser, a 27 time bridesmaid, and Kevin Doyle, a journalist who is interested in covering Jane's unusual story. From the quirky wardrobe of bridesmaid dresses to the swoony romantic lines, this film has its fair share of funny moments. Despite the abundance of sweet scenes, the film's redeeming qualities were overshadowed by the overuse of stereotypical characters. Nonetheless, it is a fun watch for a slow day.
3: "Clueless" 
"Clueless" is a charming look at Beverly Hills adolescence, through an adaptation of "Emma" by Jane Austen. With her valley girl accent and self-absorbed demeanor, the main protagonist Cher Horowitz may come off as the film's title implies, "clueless." Yet these qualities are what make Cher endearing to the viewers, giving the movie an innocent, sincere tone. Despite its iconic lines and snappy satirical humor, the unsettling romance between a high school and college student (who also happens to be Cher's ex-stepbrother) land this movie in third place. 
2: "How to Lose a Guy in 10 Days" 
In exchange for a raise, Andie Anderson embarks on a 10-day mission to get a guy to dump her, while Ben Berry pursues a similar 10-day mission to make a woman fall in love with him, resulting in a dynamic duo that makes each other's lives a living nightmare. While the cliché stereotypes of a successful relationship often feel overdone, the characters' strong chemistry and impressive comedic charm make up for it. From the unforgettable cover of Carly Simon's"You're So Vain" to the silly pranks the lead characters pull, not once is there a dull moment throughout this movie. 
1: "10 Things I Hate About You" 
A contemporary flair on the Shakespeare classic "The Taming Of The Shrew," this movie takes the audience on a coming-of-age journey, capturing teen drama, fear and navigation. From the playful banter to the enemies-to-lovers trope, this film is an emotional rollercoaster that keeps the audience entertained. By maintaining all the best teen chick-flick clichés such as the rebel, the jock and the distracted, yet strict adult this movie is perfectly cheesy. The lead characters Kat Stratford and Patrick Verona keep the movie energetic with their mischievous personalities. No matter how many times I have watched this film, it manages to keep me engaged and smiling.
Which is your favorite rom-com?
Sorry, there was an error loading this poll.
Leave a Comment
Your donation will support the student journalists of Portola High School. Your contribution will allow us to purchase equipment and cover our annual website hosting costs.
About the Contributor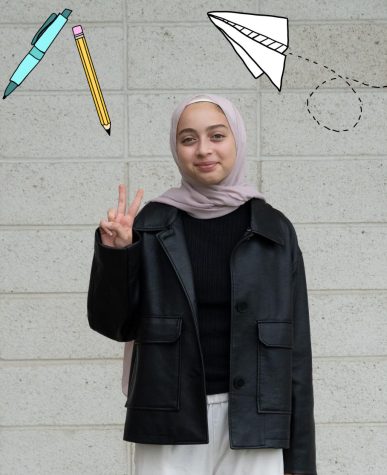 Jana Malek, Staff Writer
Jana Malek is a staff writer for the Portola Pilot. She is excited to spend her final year running around with a camera behind deadline. When she's not...