Senior Captures World through His Lens
A couple hundred snapshots of sunsets and beaches fill senior Jun Yu's Instagram page, @through_yu; it's become his habit to travel out to Laguna Beach or the Santa Monica Pier every few weeks. Though the view may be the same, the lighting, angle and figures make each shot worth more than a thousand words. 
"I think the very, very first time I started to shoot photos was when I went overseas, like going out to other countries with my parents. And my parents had a very small camera, an Olympus," Yu said. "And I started shooting photos with it while I traveled around Europe." 
Yu's love for photography sparked from his enthusiasm for travel. At age 11, Yu remembers visiting France, Spain, Switzerland and Germany, shooting photos along the tour. 
"Photography and traveling, I think, it's like the same thing. You should travel to photograph something," Yu said. "When I first arrived here, I went to San Diego and LA, and I did an RV trip. So I think like traveling and finding new locations, it's a part of the photography journey."
It was only in August 2020 that Yu took his first step toward becoming a photographer. Shadowing his friend who was capturing the scenes around Seoul through his lens, Yu was motivated to officially start his own project. 
But first, he needed a camera. 
After visiting both historic and modern high-tech buildings within the city of Seoul, Yu made a tour compilation and submitted the video to a competition hosted by the organization "Every Good Day."
"I didn't take photos first. I started to make travel videos with my iPhone," Yu said. "My first project was making a video of Seoul, the city that I lived in"
Yu won third place and used the prize money to buy his first digital camera, the Sony A6100. 
Since then, Yu has been invested in running his independent photography business, whether it is filming music videos for rappers like fluluv or doing photoshoots for clothing brands like LSKD. Aside from projects like these, Yu's signature is landscape photography— more specifically, beach photos. 
"I think my style changed a lot. In Korea, I used to shoot more street photography style," Yu said. "To be honest, I want to try lots of styles, but it's very easy to go to the beach and choose a sunset rather than going to LA and shooting cityscapes." 
Yu said he views black and white photography as another one of his trademarks, using Adobe Lightroom and Photoshop to edit. Due to the lack of arts funding in Korean schools, Yu said that YouTube was his teacher. 
"Here, you can learn how to use a camera or how to use camera equipment in one class. But for YouTube videos, it takes time for you to search and find a good teacher," Yu said. "Searching and learning and actually applying those skills in real-life took very long. It first took six months to just do the basics."
After moving to America in December 2020, Yu was able to access more resources and bond with impassioned communities of fellow photographers, both through PNN and his Instagram platform. 
"I do have a few group chats [where] we share our works and share information," Yu said. "When I go out to shoot, and I don't know how to set it up, we can ask each other. I really love the community, and also there's a lot of things that I can learn."
Part of this photography community is the audience, those who await and watch his works posted from the other side of the screen. 
"I could cherish the moment for the camera, which feels very special. I love when I share my works and see good feedbacks for it," Yu said. "I might have another really good reason, but I can't find it yet."
View Comments(1)
Your donation will support the student journalists of Portola High School. Your contribution will allow us to purchase equipment and cover our annual website hosting costs.
About the Contributor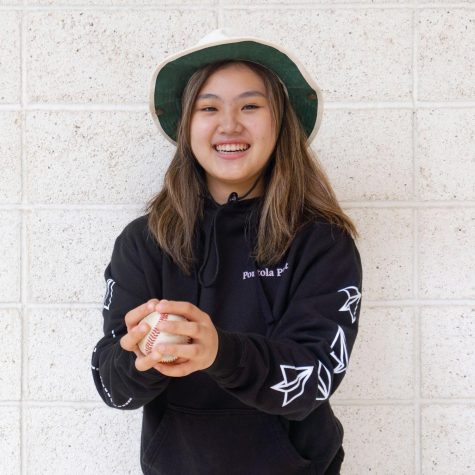 Grace Baek, Asst. Sports Editor
Grace Baek is the assistant Sports Editor for her second and final year on the Pilot. She is looking forward to getting to know the new staff members and...