Senior's Boba Review Account Helps Others Find Their Cup of Tea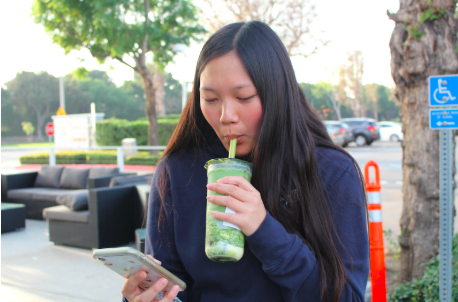 After driving to Sunright Tea Studio, a new chain boba shop recently opened in the Irvine Village Center, senior Haley Truong and I find that we have arrived 30 minutes early, as the store officially opens at 3 p.m. In that time, Truong and I take a seat on the plush sofas situated outside the quaint shop and discuss her popular boba reviewing account, "haleylovesboba" on Instagram.
Truong's account bears the polished look of an experienced reviewer, with a location tag in her biography and colorful saved stories labelled after different tea shops. When Instagram users click on each story highlight, pictures, videos or boomerangs of various drinks from each boba shop's menu pop up. Each media component comes with a drink identification, a rating out of ten and a short drink summary. Scroll further down to her feed, and you'll see high quality, colorful images of various drinks from boba shops around all of Orange County.
"Haleylovesboba" began in August 2019 after Truong noticed the growing popularity of boba shops within her community. Truong said she aims for her account to help people appreciate boba as much as she does and to assist in finding the right cup of boba for each person. Truong's favorite drink is the Japanese Matcha Soy from 7 Leaves Cafe.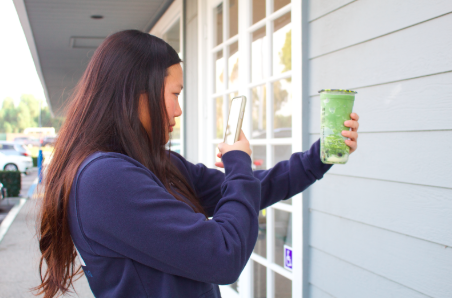 "I had boba a lot when I was growing up. I used to drink Tastea, but I only got mango smoothies, and they were just decent at the time," Truong said. "They were decent in the sense that you're a kid, and you just want dessert. But when I was in middle school I had 7 Leaves for the first time, and I was like, 'This is amazing.'"
Though Truong intended for her account to help others find their cup of tea, she did not expect to change her own perspective on social media in the process as well.
"I've learned how to navigate social media positively," Truong said. "I feel like with social media, there can be a lot of negative consequences, but doing this boba account helps me have a positive impact. I try to make sure I'm putting out the best version of myself online. It also makes me appreciate getting boba more, because I actually try to taste the boba so I can give a good review."
Prior to @haleylovesboba, Truong ran a noodle account starting in May 2017 called @haleylovesnoodles geared to show her appreciation for noodle dishes created by her family. Though I see her look through her noodle posts nostalgically, Truong acknowledges that it was more difficult to run.
"It was harder for people to understand, and I wouldn't eat noodles that often, so I wouldn't have anything to post," Truong said. "I couldn't really review the noodles because they were homemade, and it seemed like I was just showing off. My boba account is more useful."
Truong still looked for ways to incorporate viewer engagement, opening up her private messages for follower-submitted photos of noodles. Her primary goal was to connect to her friends and followers and create her account as a shared experience, she said.
"People would reach out to me through my noodle and boba accounts and be like 'Here's a photo of noodles; can you use this as a noodle submission?,'" Truong said. "We'd have a conversation and then I'd get to meet a new person from my school that I had only talked to once or twice before. Same with the boba account: when people would ask me advice like 'How's this?' we'd talk a little after, and I'd get to know them better. It's fun!"