Sibling Pair Competes and Connects through Wrestling
In most sports, players form close bonds with each other, turning into a family over a season of grueling practices and intense competitions. 
The Qureshis are different; their relationship as siblings was established long before they became teammates on varsity wrestling. For freshman Carissa Qureshi and sophomore Ethan Qureshi, wrestling united them under a singular passion and gave them the opportunity to appreciate their familial connection.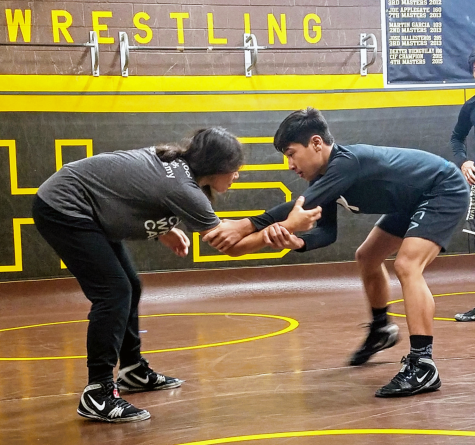 "[Wrestling is] something we both love, so I always see him watching wrestling, and I think he can see me watching wrestling too," Carissa Qureshi said. "It sort of makes us closer, because we share a bond over wrestling. It's what we talk about a lot."
This past wrestling season was not the first time they have stood side-by-side on the mats together. Prior to their foray into wrestling, the sibling duo spent an extensive amount of time training in Brazilian jiu-jitsu; Ethan Qureshi was involved with the sport for six years while Carissa Qureshi spent five years. 
Since most high schools do not have a jiu-jitsu program, the pair gravitated toward wrestling instead. Certain elements, such as hand-to-hand ground fighting, are shared between the two sports, allowing for the Qureshi siblings to quickly pick up the skills needed for wrestling.
"Ethan used to help me a lot," Carissa Qureshi said. "We would work with each other, and he would teach me new things, because I was so new to the sport. But overall, he's just made the sport better for me."
As the older brother, Ethan Qureshi became involved with wrestling earlier, so when his sister expressed interest in the sport, he was the first to teach her the basics. Throughout the summer before Carissa Qureshi's freshman year, they would wrestle for two hours almost every day in preparation for the upcoming season. 
The Qureshis have placed frequently in numerous competitions. On Nov. 23, 2019, the two each brought home first place finishes in their own respective pre-season tournaments. Although the siblings were in two different places ‒ Ethan was at the Costa Mesa Classic Tournament and Carissa competed at the Lady Big Kat Tournament – the siblings were overjoyed once they realized they had both won. 
"I'm thankful to have a sister on the team that's always supporting me, and I'm just glad to have her as a training partner along with the rest of the team," Ethan Qureshi said. "It was exciting to see our hard work pay off when we trained with each other. We were both glad to have won our tournaments."