Boys' Basketball Emerges as Pacific Coast League Champions with 9-1 Record
Updated Feb. 7: Boys' basketball (9-1) clinched the PCL Champion title in its 70-51 victory against Irvine High on Feb. 6. The team continued its winning streak over its final three games, ending the season with nine consecutive victories and securing their spot in the CIF playoffs.
The tension in the room builds as the student section holds a collective breath, bursting into howls of relief as forward and senior Mohsen Hashemi sinks a foul-and-one. Boys' basketball (6-1) defeated University High 80-63 at the home white-out game on Jan. 28, leading to the current winning streak of eight games this season. The next game will take place at Irvine high school against their team on Feb. 6 at 7:00 p.m.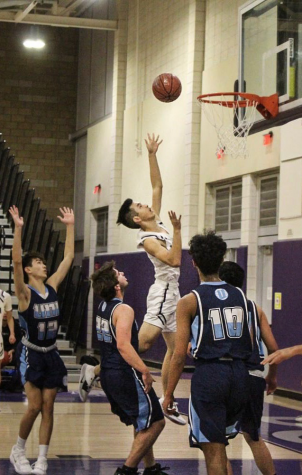 A 24-second moment of silence in memory of Kobe Bryant, the former Los Angeles Laker who died in a helicopter crash on Jan. 19, preceded the game before launching into a slow first quarter, with only 12 points scored. A steal sandwiched between two layups by shooting guard and junior Joshua Steinberg helped quicken the pace of another score.
"First quarter, we did not play very well, but we tell the boys all the time: it's a game of four quarters," head coach Brian Smith said. "So we always try to 'win the eight' — the eight-minute battle. We came in with a little more fire and sense of urgency by the end of the third quarter, so we won three out of the four quarters that game."
Point guard and senior Robert Giraldy, who scored 21 points in the game, secured the Bulldogs' lead with a three-pointer, mid-range jumper, putback and another rebound and putback with the assist of forward and senior Soma Doherty all in the third quarter.
"First quarter we started off slow, but we had a strong second quarter," Giraldy said. "We kinda started off a little flat again towards the second half of that quarter, and the fourth quarter went on, and we just kept playing good, and my teammates were throwing me the ball and just getting buckets."
Currently, the team has to win their game on Feb. 6 in order to hold first place in the league, however if they lose, they are co-champions with Beckman high school.
"With every game, every team has different strengths, so our coaching staff puts together a strategy for every team, and specifically for Uni, that was just to play run and gun," forward and senior Omar Habibeh said. "That's their style of basketball, so ours is just to do it better than they do, score as many points as we can, and limit them to scoring as many points as possible."
About the Contributors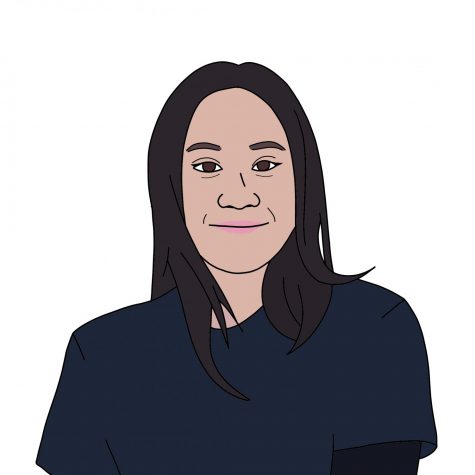 Kelthie Truong, Managing Editor
Kelthie Truong is a Co-Managing Editor for the 2020-21 school year, her second and final year with the Pilot. When she's not in the newsroom, you can...