Fall Choir Concert Performers Begin their 'Homeward Bound' to In-person Concerts
As the lights dim, a hush descends upon the theater, and with it, there is a swelling of nostalgia. The audience members, brimming with anticipation, draw their gazes toward the mask-clad students filing into the bleachers on stage.
There is a beat of silence and then, a chorus of voices pierces the air. To be here, in a theater full of singers and guests after almost two years, feels like a return to normal, a return to home. 
The fall choir concert, titled "Homeward Bound: Songs and Stories of Belonging," featured a total of six ensembles, including a guest collegiate-level chamber choir from California Polytechnic State University, San Luis Obispo. The production, which took place on Oct. 15, was the choir program's first in-person concert in the theater since May 2019.
"The big idea for the concert is that there are a lot of things that feel like home to us that are not necessarily just the house that we sleep at," choir director Adrian Rangel-Sanchez said. "And a lot of those things have to do with activities or with people or with specific things that you do that's like a place where you belong and you feel at home, and the pandemic took a lot of those away from us."
Each choir performed two-to-three songs, all of which connected back to the overall theme of "home." Songs ranged from the rhythmic South African folk piece "Tshotsholoza" to the rousing "I'll Be On My Way" by Shawn Kirchner. During more contemporary arrangements, such as "From Now On" from the film "The Greatest Showman" (2017), the audience engaged with the ensembles by clapping along.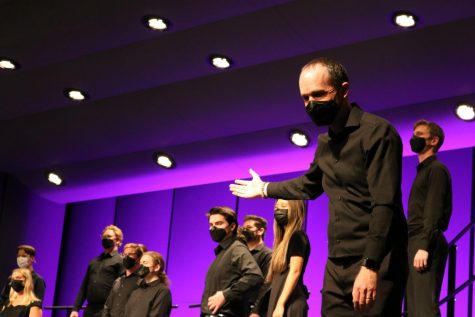 "I was freaking out," Portola Singer and sophomore Nithila Francis said. "I was very nervous, but it was really cool. The piece I had a solo in was a really beautiful piece, so I was super excited to have a solo, but it also felt really cool to be able to have that extra part because my part was more of a line floating above the choir."
In homage to the theme, students shared stories with the audience about what they considered to be their home in between songs. Though some students mentioned specific places or people, many cited this choir program.
In particular, senior Nathan To said, "Home for me is this choir program and Minecraft," which was met with smiles and laughter from the crowd.
In the month leading up to the concert, Rangel-Sanchez and his choir classes had discussions centered around the things they left behind due to COVID-19 as well as their definitions of home. These conversations served as the basis for the overall theme and structure of the aforementioned monologues, according to Rangel-Sanchez.
"When we all said what was home for us, it was a really hard moment for me because I started to have all of my memories of home back in Mexico," Treblemaker member and junior Marco Machado said. "There is so much family back there. It was just so inspiring being able to sing it out instead of praying about it. It was something happy for me. It was something beautiful, to be able to share my memories with others through a song."
Through elaborate songs and compelling stories, the concert reconnected the performers with the audience after a year of separation. 
"The cool thing is that a lot of people who go to the concerts maybe only know one or two people who are on stage, but they probably don't know everybody who's there," Rangel-Sanchez said. "So it's a fresh opportunity to just connect with people that you don't know and have a moment where you have that human connection with somebody, and you realize that we're a lot more the same than we are different."
Leave a Comment
Your donation will support the student journalists of Portola High School. Your contribution will allow us to purchase equipment and cover our annual website hosting costs.