Former Portola Student Audrey Hsieh Lands Breakthrough Role in Netflix's 'Mixtape'
When Audrey Hsieh entered Portola High in 2018, she made a pact with herself: she would stop pursuing acting at the end of high school if she did not land a significant role. Nine years of fruitless effort, and no big role yet. 
"I was super, super bummed about it," Hsieh said. 
But then it happened: Netflix gave her the shot she'd been waiting for. 
Hsieh began acting when she was six, after a talent scout gave her a business card at Target and told Hsieh to call if she wanted to try acting. Though her career only started as a hobby, Hsieh eventually found herself empathizing with her characters as she poured more time into her craft. 
"I like to make a connection with my characters — find that one thing that you both relate with, and you can dive into that part because everybody has compassion," Hsieh said. "I think acting is another form of self-expression, even though there are lines. You're able to explore different parts of yourself in these characters that you otherwise can't explore."
In Feb. 2020, Hsieh initially auditioned for "Mixtape"'s main character Beverly. Two weeks later, the casting team emailed to let her know they loved her take. But they also wanted her to try Ellen.
"So I auditioned for that," Hsieh said. "And later on, they're like, 'Hey, come in, let's do some chemistry reads.' And I'm like, 'Sure.' And it was great. And I ended up booking the role. And shoot — I was like, 'Oh my gosh, that's awesome.' But yeah, there was definitely a bit of work put in there."
Hsieh is quick to agree that the set of "Mixtape" is different from that of other movies. Colleagues had said on-set relationships are usually surface-level — a "do what needs to be done to achieve the scene" attitude. 
"But with Ellen, and especially with the cast and crew, we had such a supportive environment," Hsieh said. "They really taught me how I could just be myself. It's okay to take a breather. I don't always have to be 100% perfect. And I think that that was a really important lesson that I had to learn."
A normal day on the set of "Mixtape" was about 12 hours. Filming stretched from January to early April of 2021, and to balance her two "full-time jobs" as an actress and a student, Hsieh transitioned to online private schooling this year as a senior. 
"I'm honestly really proud of her and really proud to be her friend," senior Adelynne Wong said. "I know how hard she's worked to get to where she is now, especially with all the days off of school she's had to take."
Hsieh nonetheless struggles to navigate her still-developing career. She worries about her next role and future success. But she continues to act because it brings her alive. 
"In my favorite scene, we're in the garage," Hsieh said. "And we're just jamming out on our instruments. That kind of sums up the whole movie. You're just having fun. We're just kids trying to find their own styles. And it was amazing. Like we were just living, legit just jamming out."
She paused, a smile growing on her face. "And then the cameras were also there."
Leave a Comment
Your donation will support the student journalists of Portola High School. Your contribution will allow us to purchase equipment and cover our annual website hosting costs.
About the Contributors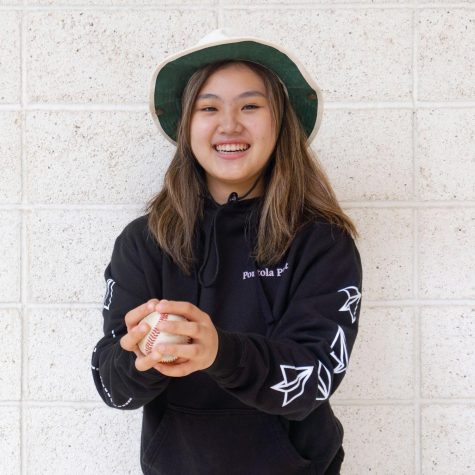 Grace Baek, Asst. Sports Editor
Grace Baek is the assistant Sports Editor for her second and final year on the Pilot. She is looking forward to getting to know the new staff members and...