Four Students Showcase Their Art as OC Register Artists of the Year Semifinalists
Visual and performing arts teachers chose four students as semifinalists for Orange County Register Artist of the Year on April 23. The finalists will be announced on April 30. Senior Daisy Liao was selected twice in the categories of film and TV for film directing and fine arts for mixed media. Senior Mia Linville is a semifinalist for ceramics, senior Aiden Park for drawing and senior Jayden Yeung for violin. 
Students submitted portfolios of their art pieces. Then, they were interviewed by a panel of judges who asked questions about their artistic statements. 
Each arts teacher nominates two students per category, who will later be interviewed by arts teachers at Chapman University on May 24-25. Afterwards, the judges selected 15 semifinalists per category. 
Video production teacher Tina Murphy and visual arts teacher Kearci Thompson nominated Liao, who has been a member of Portola News Network for one year and is currently the anchor of "Life with Daisy," a segment on PNN. In visual arts, she is currently enrolled in AP Studio Art. 
"I've been doing art since I was nine months old or six months old because my parents are both artists," Liao said. "They've trained me in the fine arts for my entire life. That's my artistic background with something I have, and I'm kind of good at it. I'm still developing, but it's just a skill that comes easily to me."
Ceramics teacher Donovan Miller nominated senior Mia Linville. Their work focuses on mental health issues like depression, dissociative identity disorder and schizophrenia. 
"I was surprised because I didn't really expect to make it to the semi finals," Linville said. "A lot of people in ceramics throw and make pottery, and none of my pieces are thrown. They're all hand built. I was surprised to have been considered for the nomination and also come so far, but I feel really rewarded because I do sports and academics in my life, and art is my only escape." 
Visual arts teacher Kearci Thompson nominated senior Aiden Park for drawing. He has been painting and drawing for seven years and is currently enrolled in AP Studio Art. 
"I really like the technical skills that I've developed," Park said. "One of my motorcycle pieces was hyperrealism; that's the piece I'm most proud of just because it took the longest time and required the most effort. Some of these pieces take weeks and months, but the feeling you have when you finally finish it is really rewarding." 
Instrumental music teacher Desmond Stevens nominated senior Jayden Yeung for violin performance. He has played solos at Carnegie Hall and also as part of the Pacific Youth Symphony Orchestra at Segerstrom Center for the Arts. 
"I've learned the distinction between technical perfection versus playing music as an experience," Yeung said. "When I was younger, especially as a freshman, I was scared of playing the right notes with the orchestra or just the technical aspects like making sure I do everything right. Over the years, I've realized that not many people realize when you make a mistake, but what they do notice is the emotions you put into the music." 
Leave a Comment
Your donation will support the student journalists of Portola High School. Your contribution will allow us to purchase equipment and cover our annual website hosting costs.
About the Contributor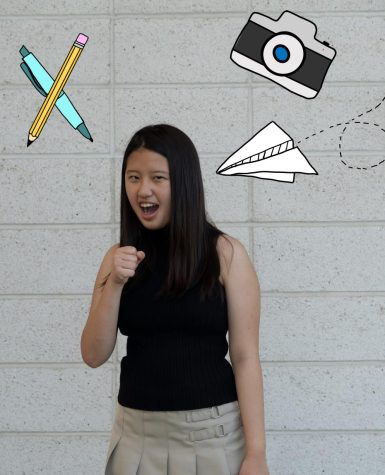 Gwyneth Yung, Staff Writer
Gwyneth Yung is a staff writer and photo editor for her first year on the Portola Pilot. She is looking forward to getting to know her fellow Pilot members...