How to Bake Bread During Quarantine with Limited Resources
As the quarantine boredom sets in, many people have turned to baking in order to keep themselves occupied and relieve stress. Both beginner and expert bakers have made #quarantinebaking trend on social media.
But with the increased enthusiasm comes shelves emptied of baking materials such as yeast, butter, eggs and milk. According to Business Insider, yeast sales have risen 647% since March 21, and companies are struggling to meet demands for the product.
If you want bread recipes while baking with limited resources, you've come to the right place. Depending on which ingredients you have, you'll be able to choose the most convenient recipe.
SODA BREAD
If you are unable to obtain yeast, soda bread is the right bread for you to bake. With a dense, cake-like texture and a crunchy outer crust, soda bread goes well with butter, jam or even in a sandwich. 
Ingredients:
4 cups all-purpose flour

4 tablespoons white sugar

1 teaspoon baking soda

1 tablespoon baking powder

½ teaspoon salt

½ cup margarine, softened

1 ¼ cups buttermilk

1 egg

¼ cup butter, melted
Directions: 
Preheat your oven to 375 degrees Fahrenheit (190 degrees Celsius). Lightly grease a large baking sheet with butter.

In a large bowl, mix together the flour, sugar, baking soda, baking powder, salt and margarine. Stir in the egg and one cup of buttermilk. 

Turn your dough out onto a lightly floured surface and knead slightly until the dough is an even consistency. Form dough into a round and place on the prepared baking sheet. 

In a small bowl, combine the melted butter with the remaining buttermilk; brush loaf with this mixture using a pastry brush. 

Use a sharp knife to cut an 'X' into the top of the loaf. The 'X' should span the entire length of the top of the bread. 

Bake for 45 to 50 minutes in the oven until a toothpick inserted into the center of the loaf comes out clean.
This recipe was adapted from All Recipes.
EASY HOMEMADE BREAD
Ingredients:
2 cups warm water (110 degrees Fahrenheit/45 degrees Celsius)

1/2 cup white sugar

1 1/2 tablespoons active dry yeast

1 1/2 teaspoons salt

1/4 cup vegetable oil

5-6 cups flour (all-purpose or bread)
Directions:
In a large bowl, dissolve the sugar in warm water and stir in the yeast. Allow to proof for five minutes or until yeast resembles a creamy foam.

Mix the salt and oil into the yeast. Mix in the flour one cup at a time.

Knead the dough for seven minutes. 

Place in a well-oiled bowl and turn the dough to coat it in oil. Cover the bowl with a damp cloth. Allow it to rise for one hour or until it has doubled in size.

Press dough down. Knead for one minute and divide it in half. 

Shape the dough into loaves and place it into two greased 9×5 inch loaf pan

s

. Let the dough rise for 30 minutes or until it has risen one inch above the edges of the pans.

Bake at 350 degrees Fahrenheit (175 degrees Celsius) for 30 to 40 minutes until golden brown.

Cool and enjoy! 
TIP: Store bread in an airtight container or bread bag for maximum freshness. Both breads should last 3-4 days if they are  not put in the freezer. 
This recipe was adapted from Butter with a Side of Bread.
About the Writer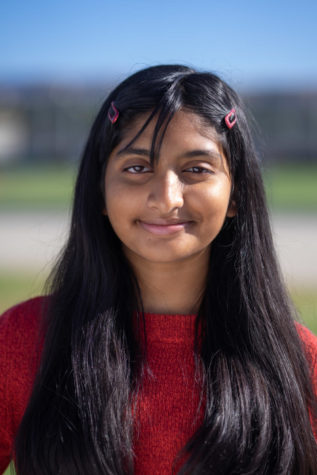 Minnah Tanzeen, Staff Writer
Minnah Tanzeen is one of your staff writers for the Portola Pilot. As a new member of the Portola Pilot team, she is excited to write newsworthy stories...