How to Valentine's: Macarons
This year, instead of simply purchasing pre-made Valentine's Day treats from the store, whip up these French macarons yourself to show a little extra love and affection for those who make your life sweeter.
Ingredients:
For the shells:
74 grams egg whites (around two large eggs)

74 grams granulated sugar

85 grams almond flour

85 grams confectioner's sugar

Red food coloring (optional for decorating)
Freeze dried strawberries (optional for decorating)

White chocolate (optional for decorating)
For the filling:
100 milliliters heavy whipping cream

250 grams white chocolate
Instructions:
Sift the confectioner's sugar and almond flour.

In a separate bowl, beat egg whites using a hand mixer for two minutes until they no longer appear clear and are foamy.

Add one-third of granulated sugar to egg whites and continue to beat. Add the second third of the granulated sugar and beat for two minutes until the mixture appears white and smooth. The texture should resemble that of foamy hand soap.

Add remaining sugar and beat until stiff peaks form. The batter should be thick enough to stay in the bowl when turned upside down.

Add food coloring if desired.

Using a spatula, add half of the dry ingredients and gently mix until just incorporated. Repeat with the other half of the dry ingredients. Be careful not to overmix, as overmixing will result in a runny texture.

Pipe batter onto a baking sheet and let dry for an hour. As tedious as it may seem, this step is essential for the "feet" of the macaron shells to form. 

While the shells are drying, preheat the oven to 355 F. Right before baking, reduce the temperature to 305 F. Bake on the top rack for 14 minutes. Heating the oven to a temperature that is higher than the final baking temperature helps the macaron shells rise higher.

To prepare the white chocolate ganache filling, chop the white chocolate and heat up the heavy whipping cream in the microwave in 30 second intervals. Combine and mix.

Once shells are fully baked and cooled, decorate as desired. We topped ours with a drizzle of white chocolate and a sprinkle of dried strawberries.

To assemble, place and spread the white chocolate ganache filling onto the bottom shell. Depending on the size of the macaron shells, one or two teaspoons should be sufficient. Add top shell and press lightly.

Store in an airtight container for three days or in the refrigerator for up to a week.
With a couple ingredients and a few hours, the decadent scent of these french macarons will waft through your kitchen. Whether they are a Valentine's Day gift for the special people in your life or an afternoon pick-me-up, a bite into these macarons is sure to bring a smile.
This recipe was adapted from Sally's Baking Addiction.
About the Contributor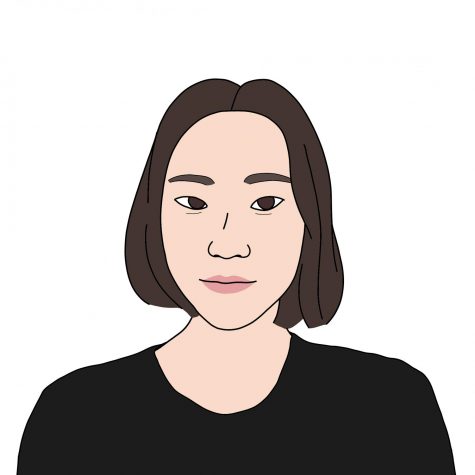 Jaein Kim, Director of Photography
Jaein Kim is the Director of Photography this year on the Portola Pilot. She is extremely passionate about visual media ranging from digital art to videography...