Introducing the 2021 Homecoming Royalty
While the traditional homecoming dance and game were not able to be held due to COVID-19, Portola High still awarded homecoming royalty on Feb. 4 and 5 to continue tradition, according to ASB adviser Sarah Alewine.
Freshman Josiah Lee, sophomore Arshia Sista, junior Megan Sha and senior Shishir Ravipati emerged as Homecoming royalty. Fellow students chose one winner from each grade level through a Canvas poll. 
We asked each student some questions to get to know them.
Freshman Josiah Lee
Who is one person you're grateful for?
"I am very grateful for my brother because he is, as different from me as he is even though he's my twin brother, it's almost like he keeps me in check," Lee said. "For the past couple years that I've been trying to run for these events and stuff, he's really been a help."
Tell us about your pets.
"I have two dogs, Milo and Olive. Milo is the first dog — he is three — and Olive's the second dog, and she's one," Lee said. "Milo will hide at night under my parents bed so he isn't put in his dog crate, and Olive stands up like a human when she wants attention. They're very important to me."
Sophomore Arshia Sista
Can you tell us more about your business?
"I think in September or October we started it. It's a resin keychain business, and basically we just create resin keychains based on the orders," Sista said. "Valentine's Day specifically, we are having these teddy bear collections and these … conversation hearts resins."
Can you tell us about your passion for singing?
"Ever since I was a little kid, I think I started being part of music. I started piano when I was really young, and then I started choir, like Indian singing, when I was in fourth or fifth grade," Sista said. "One memorable choir memory I have is on our winter concert. … The emotions that were within the song [were] so deep and rich that I was so happy to sing that song."
Junior Megan Sha 
What do you like to do in your free time?
"I like to draw and watch anime. … I used to live in China, and there's a lot of anime shows that play on TV," Sha said. "Sometimes I like to paint but also just pencil or pen."
Can you tell us more about your passion for art?
"I like the silence of it," Sha said. "I feel like it's the only time where I can completely express and be myself without feeling the pressure of others around me."
Senior Shishir Ravipati 
What are your goals for the future?
"I want to be a neurosurgeon eventually," Ravipati said. "I've always liked the brain, and medicine interests me, so that's like the intersection."
What's your favorite book and why?
"I think my favorite book would be 'Scythe'," Ravipati said. "It's a futuristic dystopian type novel, and the concept interested me. The book is about death, and that's not something you usually see with sci-fi novels."
Leave a Comment
Your donation will support the student journalists of Portola High School. Your contribution will allow us to purchase equipment and cover our annual website hosting costs.
About the Contributor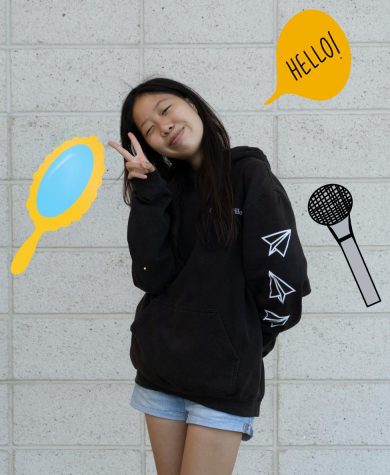 Cara Chan, Features Editor
Cara Chan is the Features Editor and Business Manager for her third year on the Portola Pilot. Though she's feeling bittersweet about her final year,...