Junior Technician Awarded Theatre Management Scholarship
As audience members sit in the theater, eyes fixed on the stage, they often become immersed into watching the latest Portola High production, But if they look carefully at the back of the theater, it is possible to spot a shadow moving about the control booth; more often than not, this figure is junior Connor Blank.
Though he did not originally intend to join technical theater during high school, Blank quickly became one of the most involved members in the department over the past two years.
His passion for his craft led him to pursue the Kathleen Conner Scholarship for Theatre Management, which is specifically developed for students interested in the production management aspect of theater. After the application process, which included a portfolio compilation and a phone interview, Blank received the news that he had earned the scholarship on April 12. 
"I was really happy," Blank said. "I didn't expect to get it because there were other people there, and I didn't know what their skills or what their interests or passions were. I just knew that I was coming into it with my best shot and presenting what I wanted to do."
Blank is planning to use the scholarship money to pay for his Irvine Valley College tuition. His goal is to major in business and possibly pursue an undergraduate degree in Theatre Management later on. 
"I know that being a technician or performer for my entire career probably wouldn't satisfy me, but I also always want to stay involved with theater," Blank said. "I thought running the business side of theater, so I can see the live happenings but also still do what I want to do outside of it, kind of merges those two aspects together."
Blank has worked on many of Portola's productions including the dance concert, "Under The Stars," and the "Cinderella" musical. He also is the treasurer for Portola's Thespian Society. This is the first year that Portola has launched a Thespian Troupe, and he was part of the inaugural student leadership team that helped guide and influence the legacy of Troupe 8944.
"
Connor takes pride in his work and the success of the program. He will see things that could be improved and will mention ways to strengthen the overall production quality."
— Samantha Sanford
"He is the type of kid who will hear a teacher or mentor casually mention a new piece of equipment or technology in passing, and he will go home and research, study the manual, and come back ready to incorporate the new technology and skills he cultivated," performing arts teacher Samantha Sanford said. "Connor takes pride in his work and the success of the program. He will see things that could be improved and will mention ways to strengthen the overall production quality."
Blank said he believes that no matter what one's passion is, there is room for everyone in the theatrical arts, and he hopes that more people will be encouraged to join theater in Portola's future. 
"I found a lot of great friends and made a lot of good memories," Blank said. "I found a passion that I wouldn't have been otherwise exposed to, and it ended up comprising a large part of what I took out of and enjoyed in high school."
About the Writers
Charlotte Cao, News Editor
Charlotte Cao is your 2020-21 Co-News Editor and is ecstatic to be returning for her second year on the Portola Pilot. Although she is excited about the...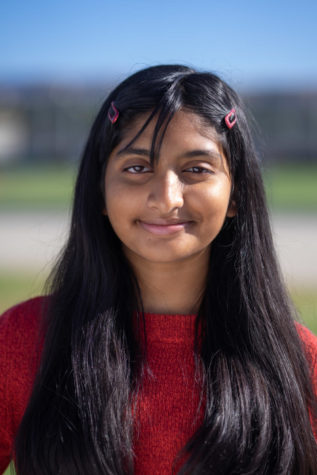 Minnah Tanzeen, Staff Writer
Minnah Tanzeen is one of your staff writers for the Portola Pilot. As a new member of the Portola Pilot team, she is excited to write newsworthy stories...