Student Band +1ZP Wins Annual Battle of the Rock Bands
Audience members raise their arms in the air to clap to the beat and wave their cell phone lights, cheering on as six student rock bands perform in the gym on Dec. 10 at Battle of the Rock Bands. 
Judges assistant principal Amy Paulsen, science teacher John Olivares and vocal music teacher Adrian Rangel-Sanchez crowned the band +1ZP as the winner, comprised of seniors Paola Morales-Concepcion, Grant Kramer, Noah Aldana, Josh Yang, Gavin Thornhill and Sky Jaan.
Bands played covers of songs like "Zombie" by The Cranberries, "Love Story" by Taylor Swift and "Boys Don't Cry" by The Cure, presenting audience members a variety of melodies to convey each band's unique style.
For junior and bassist Dora Ung, the event allowed her band Pale Moonlight to both showcase their music and strengthen their bonds.
"We have a very limited amount of opportunities to play as opposed to orchestra and band, so I feel like these big events are an opportunity for me to express myself with my friends and learn to collaborate very well," Ung said.
Studio music teacher Kyle Traska noted that while the students' musical talents grew along the journey, so did their friendships as they spent time together rehearsing with their bands.
"I'm most proud of seeing them enjoying their time with each other: their silly pictures that they take, the way that they clap for each other, the way that they hold themselves before, during and after their performances," Traska said.
Sophomore and rhythm guitarist Sharim Khan talks about how the event was important for his band Bliss, especially considering all the work they put in together.
"We had a bunch of rehearsals throughout the weeks leading up to this event, and we had a group chat and we would just ask each other, 'Hey, can you do this? Can we do this to prepare?' and we all just worked together and collaborated," Khan said.
Sophomore Myreen Hawlader attended the event with her friends as a requirement for their Guitar 1 class, yet she found other value in the group performances.
"We also wanted to come regardless just to see our other peers who also do guitar and see how they perform, and we're also thinking about taking it in the future years, so it's a good experience to have," Hawlader said. "It was really interesting to see the different group dynamics and how each of the bands performed and their different styles."
Overall, Traska highlighted how the event provided a chance for students to take pride in their accomplishments and flourish on stage in a way that typical school classrooms do not provide.
"I know there are a lot of students that I see in class that are more reserved that take that step up when they get on the stage," Traska said. "They come out of their shell, and they take on that different person. So I hope that people see the students that we have in the class in that different light."
Leave a Comment
Your donation will support the student journalists of Portola High School. Your contribution will allow us to purchase equipment and cover our annual website hosting costs.
About the Contributor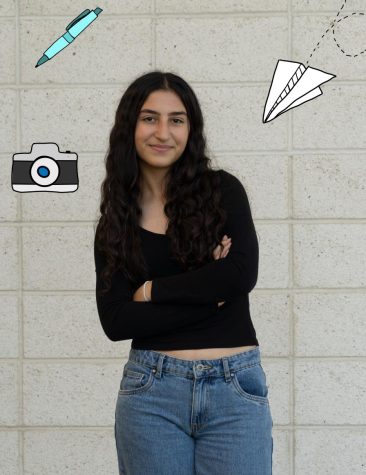 Parmin Zamani, Staff Writer
Parmin Zamani is a staff writer for her first year on the Portola Pilot. She is looking forward to working with her fellow Pilot members and exploring...