The Portola Pilots: Sibling Duo Soars The Sky
Sophomore Klara Parang sees life from a breathtaking perspective. 
Not many 16-year-olds are out flying planes or controlling the sky, yet Parang is one teenager who was lucky enough to experience life operating a jet from the air. 
Klara Parang
For Parang, piloting is an outlet to enjoy herself outside of school, despite the struggles that she encountered with her mental health during the pandemic.
"When you are in the sky, you feel different, happy and powerful. It is fun. Seeing the vibrant Laguna Beach from the sky made me happy," Parang said. "Flying makes me feel like I was in control. Flying gave me happiness."
Her brother, alumnus Kevan Parang, introduced her to this thrilling hobby in early March so he could spend time with his sister. He started flying after watching videos and researching the basics of flying as an 18-year-old according to Klara Parang. 
Over spring break, Klara Parang for the first time flew a 2001 Challenger 605 red jet with her coach, Summer Aleman, over the coast of Laguna Beach. 
"
Flying makes me feel like I was in control. Flying gave me happiness."
— Klara Parang
"Before, I didn't know much about flying, and all I knew was airlines, pilots and traveling," Klara Parang said. "My brother knew about flying before me as he was watching videos and taking practice tests. He became really into it, and then he asked me to fly with him, and I said yes."
Though the Parang siblings said they did not originally have a close-knit sibling relationship, flying allows them to connect and laugh more at their new memories of navigating a plane in ways they never could before.
"My sister and I, in most aspects, are very different, so it is hard to bond over many things," Kevan Parang said. "Since I am in college and she is still in high school, we do not talk much. Ever since I started flying, I felt like I had something to talk to her about, so it was nice. I feel like I can guide Klara through flying."
Klara Parang
Klara Parang and her brother said they have a plan to travel together with their parents after receiving their piloting licenses in the next six months to a year, and she hopes to fly to her favorite locations like the beach.
"I used to think I was not special. I felt like everyone else," Klara Parang said. "Flying made me feel special. It was something fun, and when I get my piloting license, I can fly whenever and wherever I want."
Leave a Comment
Your donation will support the student journalists of Portola High School. Your contribution will allow us to purchase equipment and cover our annual website hosting costs.
About the Contributor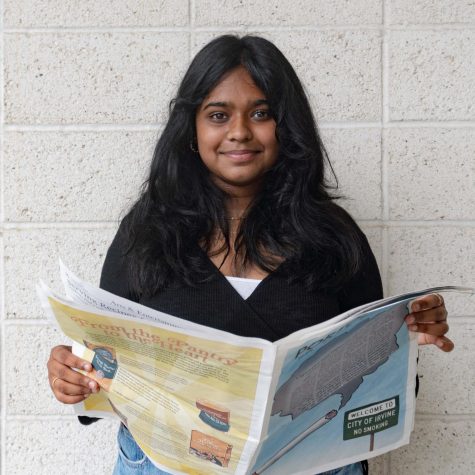 Arshia Sista, Staff Writer
Arshia Sista is serving as a staff writer for her first-year in the Portola Pilot. She is really excited to contribute to the Pilot, work with new people,...