Universal's Newest Attraction Is Not So Peachy
Next to the magical land of the Wizarding World of Harry Potter and the chaotic world of Springfield is a land right out of the Nintendo Switch–-Super Nintendo World. Does Super Nintendo World satisfy childhood dreams of being transported into the land with Mario and his friends? Mostly no. 
The Mario Kart: Bowser's Challenge is located on the lower lot in the left corner next to Transformers: The Ride. As visitors enter the land, they are filled with a wave a nostalgia. All around the park is the illusion of being in the Mushroom Kingdom. 
You are greeted by Princess Peach's castle with Bowser's Castle on the other end of the park. To satisfy people's inner dreams of meeting characters in the Mushroom Kingdom, there are picture opportunities with characters like Mario, Luigi and Princess Peach. 
However, since this is the smallest theme park land at Universal Studios Hollywood, the experience is dense with even the gift shops jam-packed with avid fans, making it challenging to buy merchandise. Also, the colors are very bright and it is very hot, especially when the sweat of 100s of people surrounds you, making it overwhelming. 
The only ride within the park is Bowser's Challenge in Bowser's Kingdom. The ride uses augmented and virtual reality (VR) technology, via Mario visors that allow ride-goers to see virtual objects. The ride features familiar tracks from the original video game series like Rainbow Road and allows passengers to use the steering wheel attached to the cart to launch shells at Bowser and his Koopalings. 
Before we try to kill Bowser, Universal should kill making any more VR games that are far too similar and boring. The ride has no thrilling elements, and is so underwhelming to the extent that it was not worth standing in neither the regular nor single riders line.
Other than the main attraction, Universal Studios set up mini-games around the park that make use of a $40 Power-up Band. They come in six different colors and can be used to interact with the park. Some of the mini-games include Goomba Crazy Crank, Piranha Plant Nap Mishap, Thwomp Panel Panic and Koopa Troopa POWer Punch. 
But, is it worth spending 40 dollars to buy a wristband for games you will play a couple of times in your life? And is it fair for people to only play these games if you pay the 40 dollars? Or is it smart to seize this economic opportunity? 
The answer to all three questions is I don't know. Personally, I did not buy the 40-dollar wristband–-sorry Mario. 
There is one main food area where people can eat at: Toadstool Cafe. However, reservations are required, and the restaurant was already full by 10:30 in the morning. If you ever decide to come to Universal, I recommend checking out City Walk and visiting Taco Bell instead, though there may not be any Mario-shaped food waiting for you inside. 
So, was it worth going to the new attraction at Universal Studios? No. With the lack of dining options and a crowded yet boring ride, it is clear that potential tourists should steer clear of the Mushroom Kingdom.
Leave a Comment
Your donation will support the student journalists of Portola High School. Your contribution will allow us to purchase equipment and cover our annual website hosting costs.
About the Contributor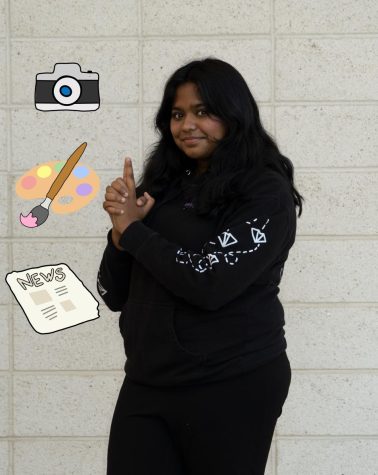 Arshia Sista, Front Page Editor
Arshia Sista is this year's front page editor for her second and last year on the Portola Pilot. She's both bittersweet and excited to design quirky...