'Mr. Morale & The Big Steppers:'Kendrick Lamar's Perspective on Society Today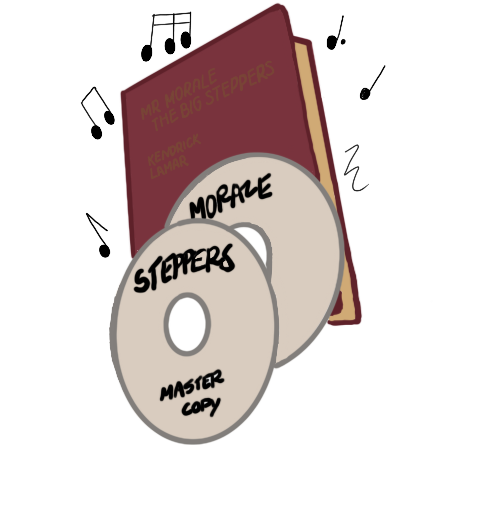 After five years of anticipation from his fans, American rapper, songwriter and producer Kendrick Lamar released his fifth album "Mr. Morale & The Big Steppers" on May 13. The album highlights societal ideas that he believes in as well as his lack of self-confidence. 
Every song on the album charted on the Billboard Hot 100 within a week of its release, as well as 13 out of the 18 songs reaching the Billboard Hot 40.
The album covers societal issues and thematic topics such as feminism, toxic relationships and sexual abuse. The top five most popular songs at the moment are "Mother I Sober," "N95," "Auntie Diaries," "United in Grief" and "We Cry Together," according to Billboard Hot 100.
"Mother I Sober" (feat. Beth Gibbons of Portishead)
"Mother I Sober" reflects on Lamar's personal traumatic experiences such as cheating on his fiancé and witnessing his mother's sexual abuse. The song is very emotional as it tries to convey the black community's struggles with being victims of sexual abuse. 
Lamar's main moral in the song is that every person is human and makes mistakes, which he depicts in the lyrics, "Mother cried, put they hands on her, it was family ties, I heard it all, I should've grabbed a fun, but I was only five. I still feel it weighin' on my heart."
Compared to the other more upbeat songs by Lamar, the song has a very soft tone with string compositions, which makes it sound melancholic. The beginning of the song is a slower piano with softer hymn-like voices. As the song progresses, Lamar's tone intensifies while speaking about his emotions, which conveys to listeners how strongly he feels on the subject.
"N95"
"N95" sounds similar to previous songs such as "DNA" and "Humble" from his 2017 album, "Damn,"with all three having a similar lyrical flow and upbeat production.
The constant beat switches may catch listeners off guard, as one second it is slower paced with fewer instrumentals, then it switches to a faster rhythm and more rap-like sound—with uptempo hi-hats and more electro-sounding synths—and back to a slow instrumental to focus listeners on his lyrics. The content of the song talks about how society and social media culture have shifted into weird spaces, mentioning topics such as "cancel culture" and "fabricated streams."
"Auntie Diaries"
"Auntie Diaries" is about accepting members of the LGBTQ+ community, hence the lyric, "My auntie is a man now." The song drove a lot of discourse from the first time we listened to it and could have been better executed, although the overall context behind his words is well-meaning.
The song has a consistent beat that is slower and rhythmic to help make the lyrics stand out rather than the production as a whole. However, some of the lyrics are vulgar and use homophobic slurs, which seems completely unnecessary in trying to send a message about acceptance to his listeners.
"United in Grief"
"United in Grief," tells the story of Lamar's mental struggles, specifically with his infidelity to his fiancé while he was on tour for his previous album. The song begins with vocals from his fiancé, Whitney Alford, saying "Tell 'em the truth."
The song includes accents of piano and soft hymn-like music. The song begins to speed up halfway through, though the piece as a whole is very inconsistent in rhythm.
"We Cry Together" (feat. Taylour Paige)
The song begins with uplifting harmonites that contrast the darker lyrics later in the piece. The song is less melodic and more conversational, with his lyrics speaking out more than the soft and simple piano keys in the background.
The song depicts an argument between a toxic couple — something that is relatable in today's dating culture. It covers subjects such as patriarchy, politics, feminism and gender roles. When initially listening to this, the heated argument in the middle of the song with Taylour Paige was a bit similar to the Netflix movie, "Malcolm and Marie."
Overall rating:
It was a bit disappointing seeing the lack of features on the album, and many of the songs were vulgar and not as jaw-dropping the first couple listens. While this is not Kendrick Lamar's best work, we will say it is one of the most well-developed projects in the past few years.
Leave a Comment
Your donation will support the student journalists of Portola High School. Your contribution will allow us to purchase equipment and cover our annual website hosting costs.