The Highs and the Lows of 'The Lo-Fis'
Twenty-two year old R&B singer, songwriter and producer Steve Lacy spent quarantine creating merchandise for his fans and producing a music video at home for his song "Live Without Your Love." After a long year, Lacy finally announced the release of his album, "The Lo-Fis," an accumulation of SoundCloud songs, leaks, unreleased demos and instrumentals on Dec. 4. 
Songs such as "When I" and "Bars. 16" have no lyrics, but instead incorporate jazzy elevator music sounds with twinges of vocals and guitar riffs. Lacy showcases a garbled array of personal development and love life drama through his salacious lyrics and layered vocals.
"That's No Fun" 
This song starts with a pitched-down voice that represents an internal monologue Lacy has, in which he reviews his changing personality through the lyrics, "You're not the same Steve that I knew, I'm not gon' be the same Steve that you knew." Throughout the song, Lacy talks about leaving his friends for never trying to progress as people and how strange it would be "If you choose to remain the same." In the interlude, there is a simulated conversation with someone from Lacy's past in which they try to reminisce on memories Lacy will not remember. 
"Cocky Girl" and "Uuuu"
In the less-than-a-minute song "Cocky Girl," Lacy prates about an egocentric love interest in the lyrics "Why you so self-centered? I ain't thinkin' 'bout you, please don't get yourself in my head." 
This song becomes ironic when it transitions to the next track, "Uuuu," in which Lacy's desperation for the love interest is lazily sung in the lyrics "Lil' mama, uh, why won't you love me?" The transition between both songs goes from a deep and slow beat to a more upbeat, choppy and screwed together beat with more scattered vocals. 
"4Real"
Halfway through the album, Lacy compares his newfound relationship to a rollercoaster with the lyrics "It's such a thrill to love you and it's a real rollercoaster of emotions we feel." This song represents an unhealthy relationship in the "lovey-dovey" states of highs and lies, along with the excuses and fights of the lows. The high-pitched vocal delivery of this song pairs well with the hyperbole and passion in the lyrics. 
Overall, this album mixes a muddle of relatable aspects of Lacy's life such as a rocky love and a personal development arc. Although it was randomly thrown together, this album is worth the listen because of its catastrophically seamless flow and angelic background vocals.
Leave a Comment
Your donation will support the student journalists of Portola High School. Your contribution will allow us to purchase equipment and cover our annual website hosting costs.
About the Contributor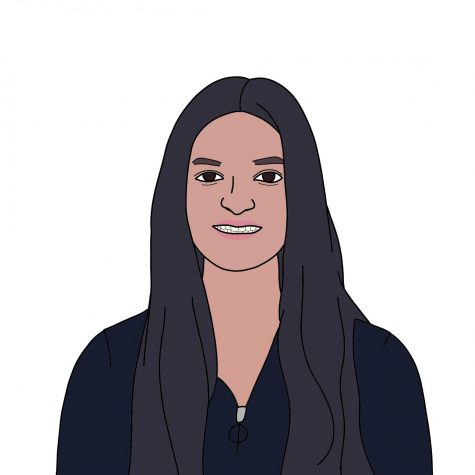 Krisha Konchadi, Front Page Editor
Krisha Konchadi is the front page editor this year on the Portola Pilot. Along with editing and creating the front page, she loves making graphics and...