Tiffany Park Joins Skye Lee as PNN Anchor
Microphones adjusted, cameras pointed, teleprompter ready, and the stage light floods onto the anchor desk where sophomore Tiffany Park and her co-anchor, junior Skye Lee, sit ready to deliver Portola News Network's (PNN) messages every other week. Park beams at the camera as she delivers her introduction, hands clasped in front of her. 
"What's up, Bulldogs? It's Tiffany," Park said. 
Park joined PNN as co-anchor this year, following the departure of former co-anchor and alumna Liz Moerman from the video production team. Her passion for news broadcast started when she joined the Jeffrey Trail Middle School video production class in eighth grade.
"In eighth grade for Jeffrey Trail TV, I was anchor, and it was really fun, so I thought that I would try to do it my sophomore year because that's when you're allowed to start being involved with PNN," Park said.
Park's audition process consisted of reading an original and a pre-written script from a PNN show. Aside from showing her face in the broadcasts, Park is responsible for creating scripts that include upcoming school events and descriptions of segments for the news shows each week. 
"I think the most important part is to make it seem real; you can't make it seem staged because it makes the audience and yourself feel uncomfortable," Park said.
As she steps into her new role this year, Park brings a new perspective to the video production team and many ideas for improving the broadcast.
"My goal of being anchor this year is to bring more life into PNN and to make it like a talk show, not really like a news broadcast, so the students are more excited to watch PNN every other week," Park said.
Almost as influential to the quality of the broadcast as the anchors themselves is the relationship between the co-anchors.
"Definitely there's a different type of chemistry I have with Tiffany rather than Liz," Lee said. "I know that [Tiffany's] really passionate when it comes to video production. I think for the both of us, this is a good opportunity for growth."
Last year, Moerman commented on the prospect of Park taking over the other half of the anchor dynamic duo with Lee. 
"I've heard so many great things about Tiffany in terms of what a great talent she is on screen and how hard she works, so I cannot wait to see the direction she and Skye take the PNN anchor desk next year," Moerman said.
About the Contributor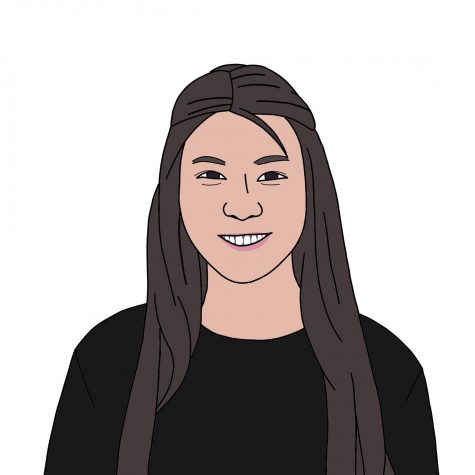 Kate Hayashi, Editor-in-Chief
Kate Hayashi is the co-editor-in-chief of the Portola Pilot. She draws all her writing inspiration from Michael Barbaro's "hmms" in "The Daily." Outside...